Gold particles can be found in decorative cosmetics, there are also precious creams with pure gold, you have heard much about gold thread. And now – a new use of this metal for our beauty.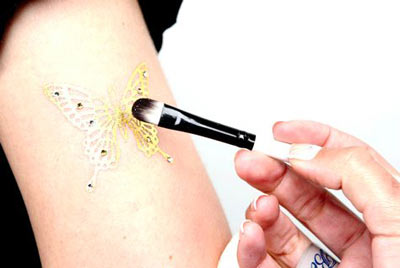 If you happen to be in Dubai in the luxurious hotel Burj Al Arab, you can try exclusive service – tattoo with real 24-carat gold.
Of course, the procedure is not cheap (the price varies depending on the coverage area from 50 to 5500 dollars). Besides, the tattoos are not permanent but temporary and this is rather a plus. The designs are very different, there are those with platinum. One of the ideas is akin to a temporary tattoo from Chanel – a tattoo in the form of jewelry. A great idea for the Christmas holidays!
Source of the image: Arabianbusiness