"I've never understood why they sell these jars with crumbled tints! It is impossible to use them!" So women often write on forums. It refers to makeup pigments. Perhaps it is time to tell you more about these products.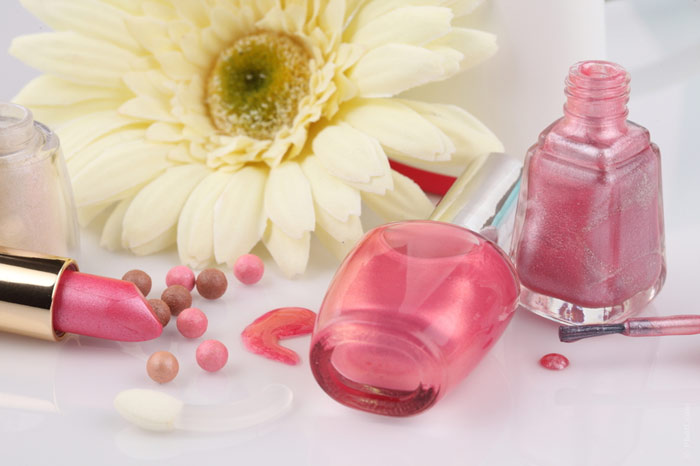 What is a pigment?
Pigment is a powder product and the main ingredient in eye shadows. If you remove the binder ingredient, the pigment will remain. A binder allows shadows to remain compact and not to crumble. However, it reduces color brightness and saturation. Pigment is a product with no moisture, a concentrated color.
That is why modern professional makeup artists prefer to use pigments – they give a clean and rich color. Most pigments have a shimmering finish. There are also matte pigments.
Now we will teach you how to use pigments as professionals do. Here are 9 main ways:
1. For eyelids
If we use pigments as eye shadow, then they should be used exactly the same as loose shadows. There are only a few peculiarities. Pigment should be taken carefully with a flat rigid brush. Be sure to shake off the excess pigment from the brush onto the edge of the jar. Do not apply it with sweeping strokes but with slight flapping movements. Then the pigment will not crumble.
Use a clean fluffy smudge brush.
2. For skin glow
Use a wide flat brush and a soft beige pigment with specks of gold. Gently shake off the excess pigment with a brush. Use a sparkling pigment with very light touches like those of a butterfly's wings. Tap the cheeks, the upper lip, the center of the forehead and under the eyebrows.
The only thing to note is that the pigment should be applied only after a primer or a foundation. They will retain the pigment, and the shimmering effect will work properly without destroying the shape.

3. For lips
Pigments can be mixed with any lip gloss or lipstick. What does it give? First, it is a deeper color. Secondly, it is a brand new shade. That is, pigments can help create a fundamentally new product with an individual shade, which no one else has. It is possible to add one or several pigments.
To create your own lip product, use a palette or the back of your hand. First, apply some gloss (or lipstick), then add a pigment and mix with a brush. Then apply on the lips.
4. As an eyeliner
You'll be surprised, but an eyeliner can be created with the help of pigments. It is important when you need an individual shade.
To create a liner you should use a special gel or cream as a binder ingredient. MAC has a similar product, as well as other cosmetics manufacturers do (for example, FACE Atelier Transforming Gel or Makeup Forever Aqua Seal). First mix the pigment with the gel base (on the palette or the back of the hand), and then apply on the eyelids with a thin brush. Mix and match colors to create something unusual (metallic, sparkling neon, etc.). Options are limitless.
5. For hair
Pigments help give hair additional shine and glow. Pigments need to be mixed with any hair styling product: a leave-in conditioner, hair spray, or a styling gel. Use a brush or a comb to distribute the resulting product on your hair. It is a great way to make color highlights and colored streaks. In addition, it is a safe way of hair coloring, because it is washed off with a shampoo.
As a binding element, you may use not only hair products. You can also apply makeup-fixing fluid, for example, MAC Fluid Fix Plus.
6. For nails
Pigments can help create your own shade of nail polish. If you add a pigment into a transparent nail polish – the latter will acquire the color of the pigment. However, you can experiment with color by adding a pigment in a colored nail polish of any texture.
7. For cheeks
Apply pigments as a blush without any binder. Take a round brush and apply the pigment to the cheekbones. It is best done in the summer, the pigment will crumble less. Moreover, there is another reason why no cream base is required: pigments are very saturated, and excess dry pigment is easier to remove with a brush.
8. For a foundation
A brick-colored or a beige-brown pigment can help create your own bronzer or a foundation of a darker shade.
9. For eyebrows
It is convenient to use pigments instead of eye shadows on your eyebrows. Apply a dry pigment to the eyebrows, or use a cream shade or a clear eyebrow gel as a base.
Attention! Not all pigments are suitable for the eye area. This is indicated on the packaging, check the marking.