Explore the shimmery and silky feeling of dip powder nail polishes. Dip nails change colors with the sunlight. They shimmer and feel like silk. They were introduced on the Today show. Oprah invited the nail technicians from Revel.com to the offices to teach her staff the "everything" about the dip powder. Her staff taught them the newest addition in the beauty industry! Well–it's still considered "new" even if it's been a couple of years since it hit the public.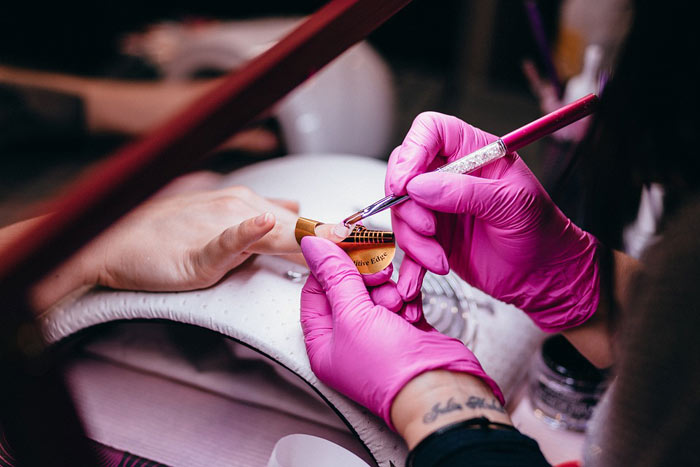 In the USA, it was in the limelight at the two mentioned above networks and publishing magazine. When it couldn't get any better with the 3-D gemstones, glitterized and metallics polishes for manis and pedis, here comes the "dip polish" that's lighter than a feather. They're favored because of how light they are. They also have a lighter, more natural feel to them. In fact, they change with your mood and sunlight. They've become a trend for the beauty industry.
With dozens and dozens of mood-changing colors and sun-changing hues, learn how to dip your nails at home. You can have a "Dip Nails Party or Gathering" or learn how to do them yourself and start having those parties! Since its inception, many DIY technicians, professionals, and students claim it's worth it.
Glamorous Dip Powder Nails, En Vogue
These polishes came out a few years ago and are now just hitting popularity slowly. The big deal is that salons in the western states are now glamorizing it more so on television, online tutorials, and magazines.
All in all, the dip nails method is quicker. It even helps with the lengthening, plus it doesn't have that harsh "monomer." You won't need a UV light either, nor worry about any of that harmful UV light you hear about. What's in style are beautiful, long lasting polished nails. Your nails will always be in style -with any of these dip nail hues. All you need is the nail lacquer (or primer) and dip powder color you like. Depending on the salon and where the owners or business gets their polishes from
Groomed Nails with Dip Powder Kits
The application can be tricky and a bit of a tedious job to do if you are not a patient person. Dip powder kits are easy to find nowadays. Cleaned groomed nails are what you have to start with. Most DIP NAIL powders come with instructions. How to begin the process. First, make sure your cuticles and nails are clean.
Apply your prep coat which is (optional). Apply two coats of primer and lacquer.
Shake your powder jar and fluff the powder to loosen it.
Apply probase layering gel
Again, go back to prep coats of primer and lacquer.
Next its the (gel) activator that needs applying
Get brush cleaner and remove excess dust particles, file nails.
Re-apply gel activator
Apply activator and wait minimum of 2 minutes
Apply 1 or 2 coats of finishing gel. This requires you to swiftly and quickly brush strokes (top to bottom). Let dry and re-apply 2nd layer of the finishing gel. Let dry and watch how they last 4 weeks, sometimes 6!
Colors to look out for this upcoming season: here's a peek
Maroon shimmers with red and brown shimmers
Pinks and oranges
Gold's and pearls
Powder shimmer and sheer steel blues
Marigold yellow with gold glitters
Purple and lavender glitters
Considered safe and damage-free, powder nail dip protects while it shines. With no damage to the nails comparably like the acrylic nails do at times, the nail dips result in amazing and long-lasting color. Finally, when you feel you need to polish your nails and keep them lasting long, try this at home.
Search various companies with their own version of their dip powder nails. There are hundreds now that you can choose from. So, keep your eyes open for the Spring collections of some of the most beautiful dip powders.