We are being asked a lot of questions about consistency in applying makeup. What comes first, and what is next. Let's clarify it.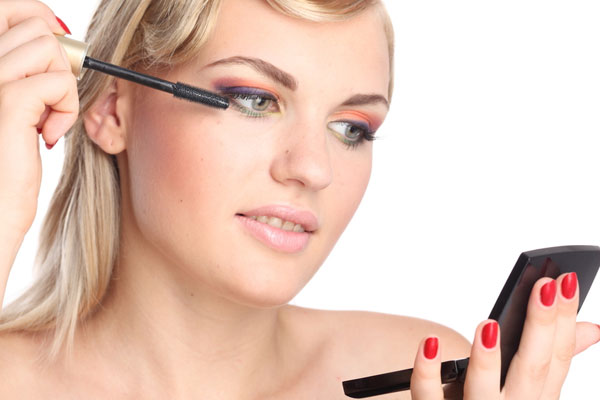 Important Things to Consider When Applying Daytime Makeup
Everyone knows that day and evening makeup require different consistency of application. Much depends on the purpose of applying makeup: what you want to bring to the foreground. In addition, the texture of the products is suitable for different occasions. So you should choose crumbly or creamy base of the makeup according to the objectives of your makeup. One more thing must be considered – light. For example, night lighting helps make a more dramatic makeup, and it "sculpts" the face perfectly well.
7 Steps of Makeup Application for the Daytime
1. Moisturizing Cream
The first step is a moisturizing tone cream or a BB cream. Apply it with a sponge soaked in water.
2. Creamy Blush
Apply the blush with your fingertips on the apples of cheeks. This element of your makeup should look like when you blush with embarrassment. It is preferable to use blush before using eye makeup because when you apply makeup on the eyes without blush, you can accentuate them too much, overburdening them with color.
3. Lip Balm
Earlier, this product could be found only in a couple of brands, but now some brands have up to 30 different colors of it. Color, or tint, lip balm is perfect for daytime makeup because its color looks light. It is advisable that you should apply lip balm before eye makeup not to accentuate the eyes too abundantly.
4. Brow Liner
This step is not a must for everyone. If your eyebrows are moderately thick, you do not need to use makeup.
5. Eyeshadows
Cream eyeshadows are applied with a finger. For daytime makeup, you can freely choose a dark-gray, pearl, or a light bronze color. The overall color is applied to the eyelid, and the darker one is used at the corner of the eyelid.
6. Eye Liner
Using eyeliner on the lash line helps emphasize the eyes and make them more attractive. Try to color the space between the lashes with the eyeliner, then use it around the lash line and blend the eyeliner a little.
7. Mascara
The last step is to use mascara. For daytime makeup, soft black mascara applied in a single layer would be a perfect option.