Pecica, a town in Romania, meets those driving in with a peculiar road sign depicting a man crawling across the road with a bottle in his hand. Underneath runs the inscription for those who won't grasp the meaning at a glance, roughly translated as "inebriated citizens ahead".
This inordinate traffic warning was put up in an attempt to prevent further accidents involving motorists and local pedestrians drifting about from one of the town's numerous bars to another.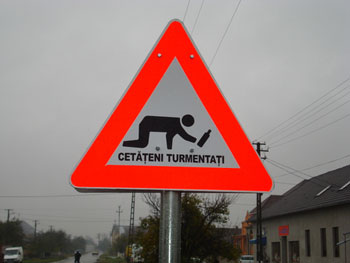 According to Petru Antal, Pecica's Mayor, drivers not familiar with the area need some kind of warning about the situation on the town's streets. Pecica being a border town, many drivers are inclined to pass through it at a fast speed which is barely compatible with the local way of life.
Source of the image: Realitatea.net