Laura Vinicombe, a fanatical fan of Barbie dolls living in the United Kingdom, likes to be dressed like her favorite character. Her hairdos resemble Barbie. The style of her bedroom fully corresponds to Barbie's puppet style and is characterized by bright pink linen, bedspreads, curtains, and a great number of Barbie dolls in plastic boxes. The room is also full of handbags, shoes and other accessories in pink color, with Barbie silhouettes and inscriptions.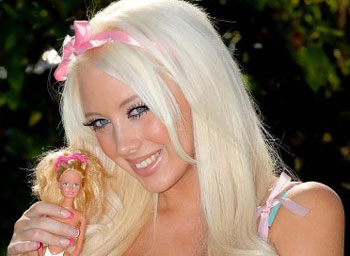 At the same time, the girl is 21 years old, and she is not the only one who has not managed to get rid of her fanatical love for this amusing doll. There are more than 100,000 Barbie collectors in the world, including the Hollywood star Demi Moore. And 90% of them are adults.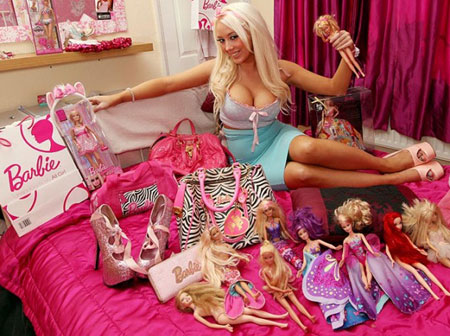 The Barbie doll, whose full name is Barbara Millicent Roberts, was first produced by the American toy manufacturing company Mattel Inc. in 1959. Two years later, in 1961, her boyfriend, Ken Carson, joined Barbie on the shelves of toy stores. After that, the world of Barbie would actively develop and modify. The doll changed her outfits and hairstyles, she would have new friends. And all of this used to be and still is in great demand.
In recent years, Barbie has undergone a massive attack on the part of physicians, dietitians, and other "enlightened people" in connection with several companies against anorexia. The fact is that the doll is endowed with an absolutely disproportionate figure. Young ladies sometimes try to copy it, bringing themseves to exhaustion. If to "reproduce" Barbie in the growth of an adult person, not violating her proportions, she will look like this: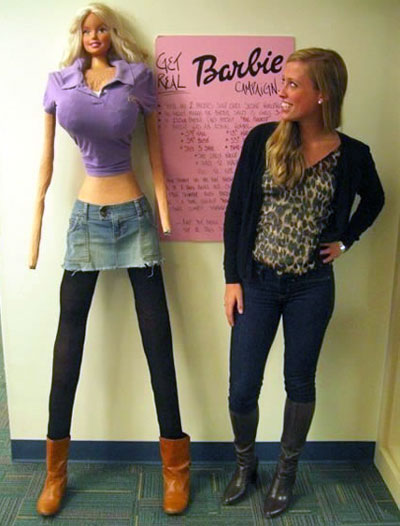 However, it does not bother hundreds of girls and women, who copy Barbie's style just like Laura Vinikombe does. These ladies wear pink clothes, dye their hair to blonde shine, make plastic surgeries to maintain the shape and proportions, and carefully watch their tan since their doll idol always has the perfect color of skin. Still, is it that bad? And how do psychologists treat such peculiar behavior? We shall discuss these questions and tell you about other two Barbie girls in the next section of our article.
Source of the image: Thesun.