Your best friend has asked you to be her maid of honour. You're thrilled at the chance to be such a huge part of her big day. Then the realisation hits you – it's also your job to plan her bachelorette party. Joy turns into a little bit of panic.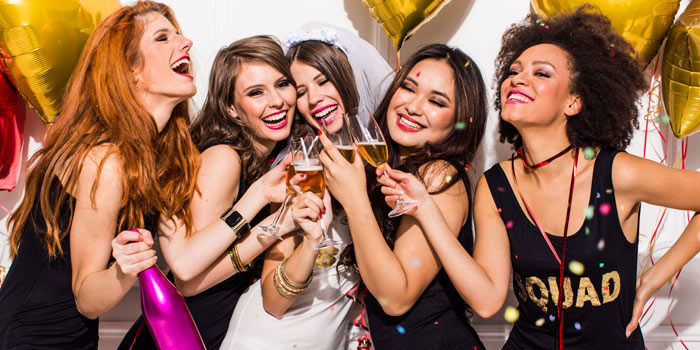 Do you go down the typical hen's party route and run the risk of it being borderline cringe-worthy or do you keep it classy with a demure theme and run the risk of it being too boring? How can you strike a balance between the two?
Keep reading to find out our tips for throwing a bachelorette party to remember.
1. Consult with the Bride-to-Be
If the bride-to-be would cringe at the idea of a greased up stripper, and all her guests sipping from novelty straws while wearing matching "Team Bride" t-shirts, then maybe it's best to steer clear of that kind of bachelorette party.
Maybe a relaxing weekend of pampering, catching up with friends over a spa day and a visit to a winery is more her thing. Or perhaps she's a bit of an adrenaline junkie and a weekend bungee jumping and/or sky-diving is more her idea of fun.
Remember, the bachelorette party is all about the bride, so, to make it a party she'll want to remember it's best to ask her for some ideas about what she wants – and what she wants to avoid! This goes for the guest list too – some brides want their mothers to be part of the debauchery and some don't so find out in advance to avoid any unwanted awkwardness for the bride.
2. Make it Memorable with Fun Elements
Nowadays, everything is a social media photo opp, so don't forget to add some fun elements like props, decorations and costumes to really stand out from the crowd. There are so many themes you can go with, from cowgirl to burlesque, to a (somewhat overdone) 1920's flapper theme. Alternatively, all the guests could simply wear a matching colour while the bride wears the traditional white, keeping it simpler for all involved.
At the event itself, you don't want all the guests distracted from the fun and frolics by spending too much time on their cell phones snapping photos and stressing over the right Insta filters and hashtags to use! Snappy Photobooths can take care of capturing the memories for you and your hens. With a range of photobooth options to choose from, all with a full-time attendant and integrations options for instant social media sharing, guests can create memories easily while also having a take home memento of the party – an actual printed out photobooth photograph! Old school!
3. Budget Thoughtfully and Carefully
Asking people for money can be a sensitive subject, so it goes without saying that sticking to a reasonable budget is a sensible idea. Don't forget to give attendees a rough idea of the costs involved in advance so they have time to plan their finances. After all, they have a wedding coming up!
It's a good idea to ask people to pay in advance of the event too – this saves the hassle of trying to ask people for money during the party itself. Don't forget to spell out exactly what's included, what will cost extra on the day and DEFINITELY do split the cost of the bride's space among everyone – the bride should not have to pay!
4. Allow Some Down Time
While it might be tempting to plan a weekend jam-packed full of things to do, remember to allow some buffer time between activities. Expect that people will want to relax a little in between events, maybe catch a nap or just hang out chatting and catching up with old friends. Allow for this buffer time and everyone will feel relaxed instead of rushed.
Have fun!
So, if you're planning a bachelorette party for a friend or relative, remember that the most important thing to consider is making it fun for everyone but most importantly, for the bride. After all, it should be her one and only bachelorette party so it should be one to remember!