As it became known not so long ago, the Valentino fashion house had been sold to Qatar sheikh for 600 million euros, but these administrative changes did not affect the creative process. More recently, Valentino presented a new advertising campaign for the fall-winter 2012-2013 collection.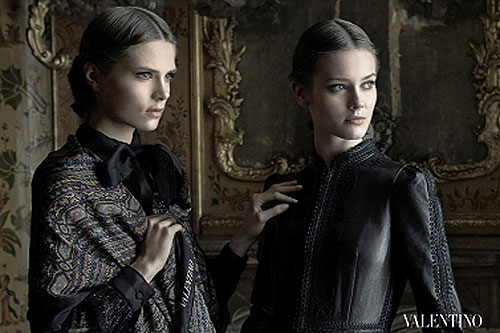 Craving for one's "roots" – for historic motives and folk traditions – is a win-win scenario in this unstable world. The creative directors of the fashion house know this truth by heart, just like the multiplication table. Thus, they embody the iconic "look into the past" of the Valentino brand in each new collection.
The main characters of the new season are capes, robes of smooth leather, transparent silk, ethnic volume embroidery, airy lace and tapestry-like patterns on long dresses with stand-up collars. The interiors of one of the Sicilian palazzos – silk carpets, gilded wrought-iron chandeliers and carved doors decorated with gems – were the location of the action and the background for advertising photo sketches of the collection created by photographer Deborah Turbeville, who is collaborating with the brand for the second time.