Jeans are so versatile that they can be worn daily on almost any occasion. They look great with a business jacket, with a light blouse, a tight turtleneck, and a sports blazer. Jeans never fall out of fashion and just get transformed from season to season. What kind of jeans will be fashionable this fall and winter?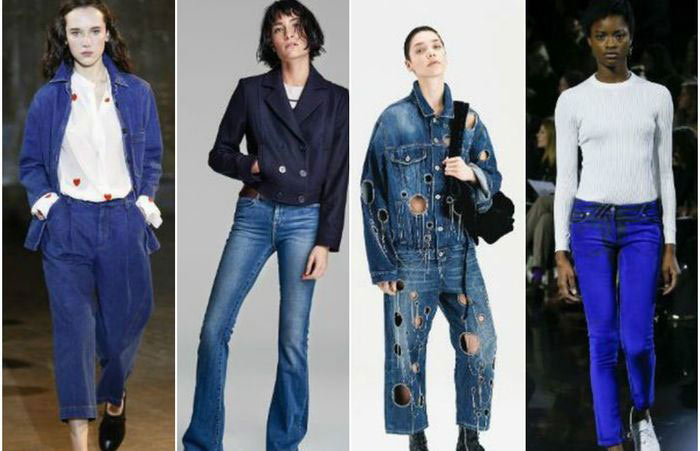 Ultra-fashionable colors
Classic blue jeans are less attractive this year. Of great demand are unusual and interesting colors, such as ultramarine blue, bright red, moderate khaki, and burgundy velvet.
Stylish prints on jeans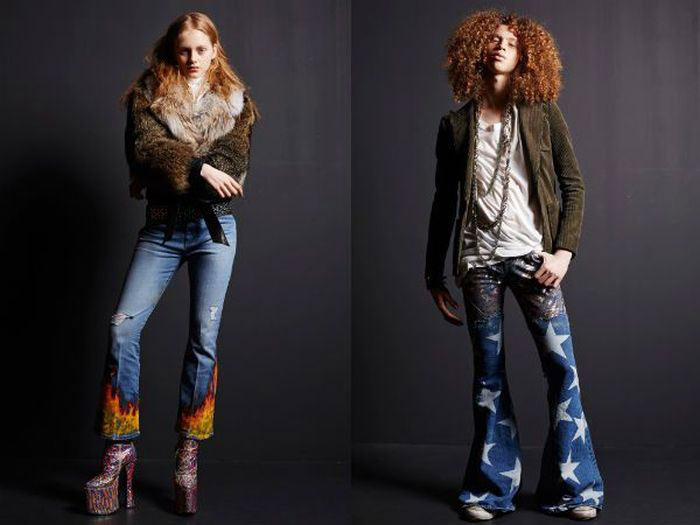 Some designers decided to leave blue jeans, but compensated for the lack of fresh shades by means of unusual prints. This fall, you can safely wear jeans with big stars, fire patterns and all sorts of unusual prints and designs.
Capri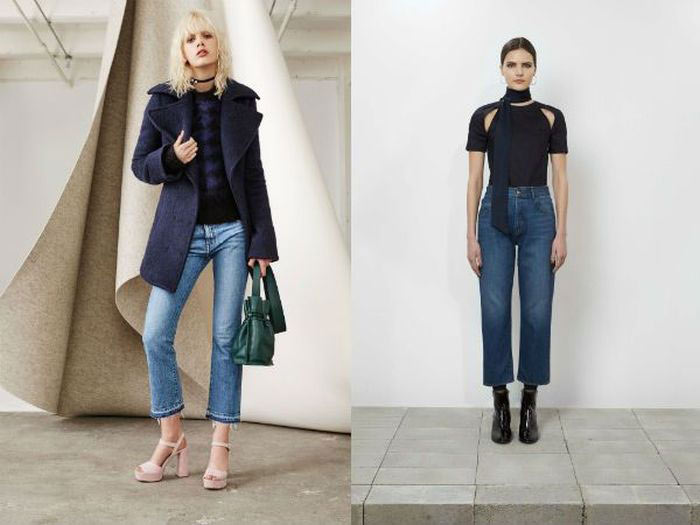 Short jeans, which are also called Capri, disappeared from the pedestal of fashion long ago, but it turned out that they would come back later. Today, they are returning to the trend list, and it's time to get the long forgotten pants out of the closet and brush the dust off them.
Denim costumes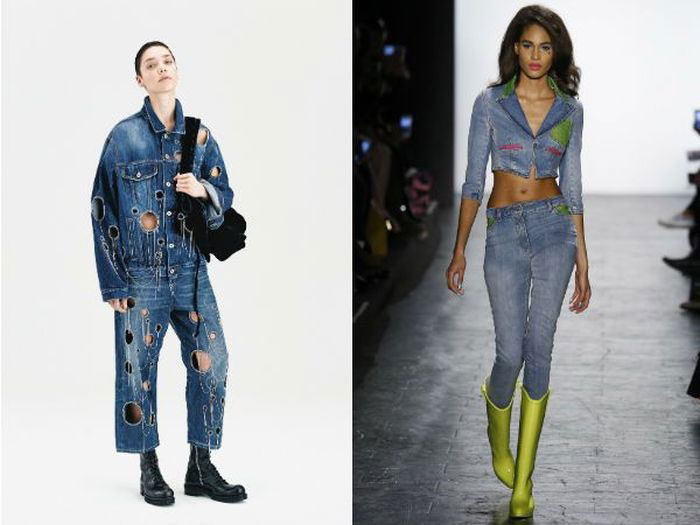 This year, designers have paid particular attention to denim and even began to make raincoats and outerwear from it. They've also paid tribute to denim costumes, which look incredibly impressive and stylish. A denim costume should necessarily be present in the wardrobe of every fashionista this season.
Overalls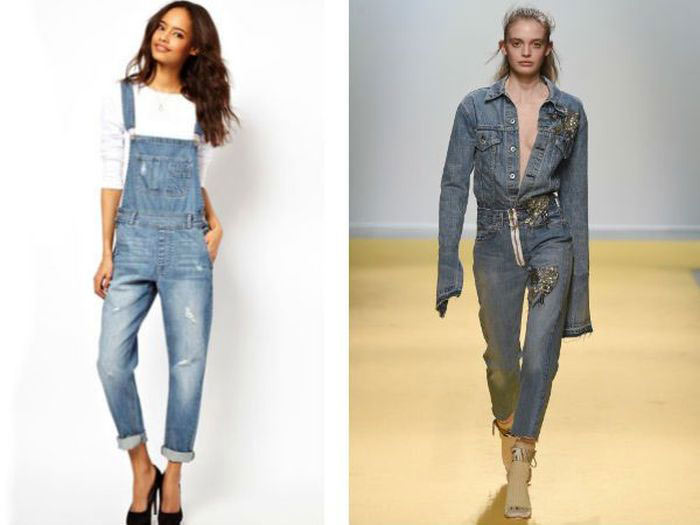 This fall and winter, it is fashionable to wear not only denim trousers or suits, but also overalls. They should be combined with a tight turtleneck and high heels. This article of clothing is suitable to girls of any constitution: slim women of fashion can pay attention to tight fitting options, and girls with lush forms may focus on the free cutting.
Classic jeans
Whatever experiments the stylists suggest, classic jeans are always unquestionable among other trends. They will be relevant at any time and in any style. They do not attract much attention, emphasize the figure perfectly well and make their owner slim and appealing.
Wide pants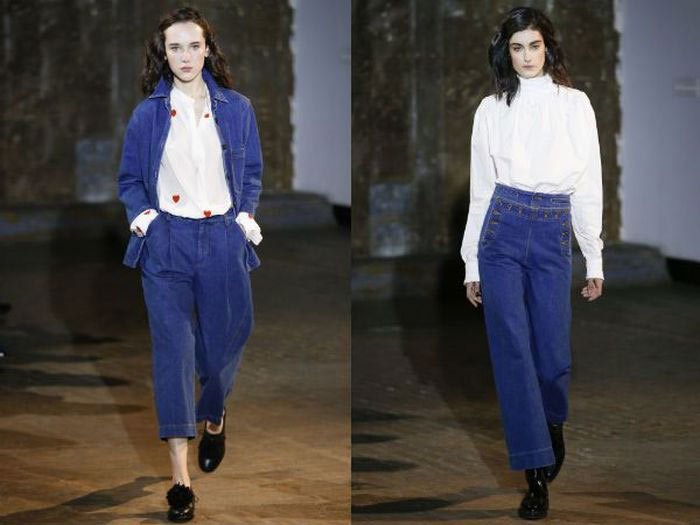 The trend for slack jeans migrated to this season from the past decades. However, these jeans became more moderate in their width and can be designed in any style and color. Women of fashion liked them and dubbed such jeans the most comfortable pants in the world.
Stylish embroidery on jeans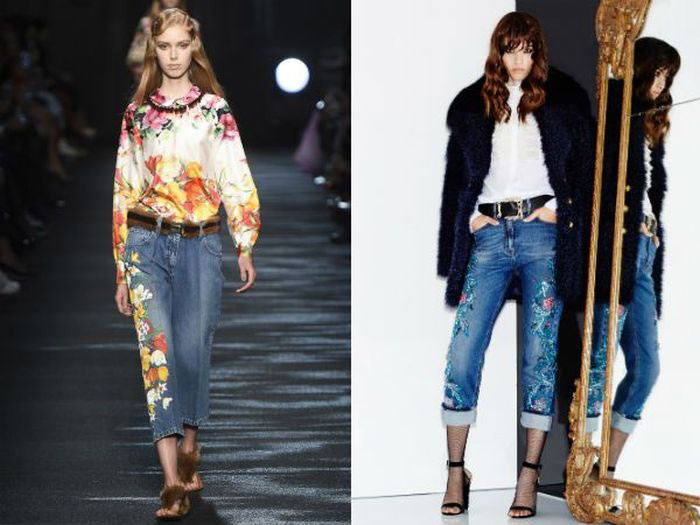 Beautiful handmade embroidery is one of the colorful trends of this fall and winter. The main motive that is used by designers is floral. Jeans are decorated with bright colors, three-dimensional leaves, and beads of different shapes and colors. These jeans will surely draw attention, although it is important to make sure that embroidery is not emphasizing problem areas, such as very broad hips.
A combination of fabrics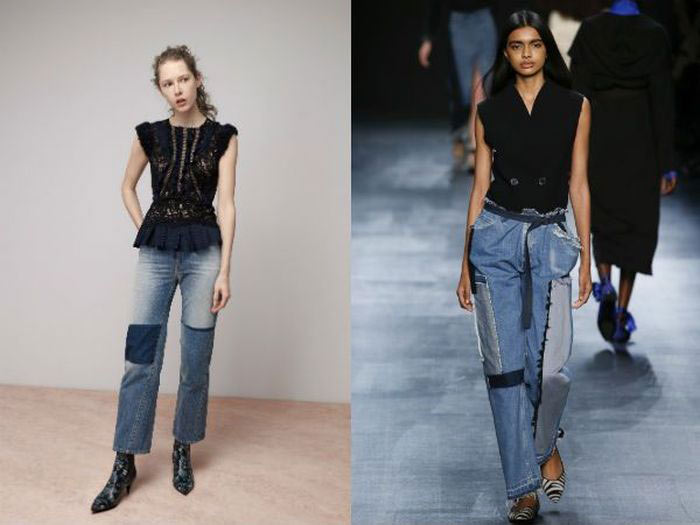 Designers seem to become more creative in their experiments with every new season. For example, we can mention the trend of combining different materials in a single product. Some trousers combine denim and leather, denim and knitwear, denim and suede, and many other materials. Such models are very unusual, and they should be in the focus of your attention this season.
Flare jeans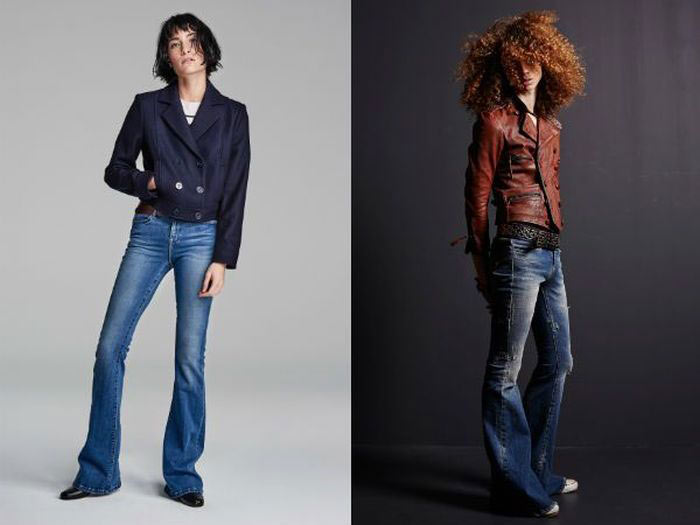 The jeans flared from the knee down, are a fashionable gift of the last century, which is relevant again. Some stylists even create hyperextended models, starting right at the hip. This season, it is recommended to wear such jeans with a short denim jacket.