What do we find in the depths of the wardrobe with the advent of autumn cold? All kinds of hats, of course. They can be used not only to protect you from the cold, but also to make the final contribution to your image. However, it is not enough to just put on an accessory to be unique and original. The model's relevance is also important here. We suggest looking at the latest trends of the coming cold season that will help you make a choice in favor of a suitable outfit for your head: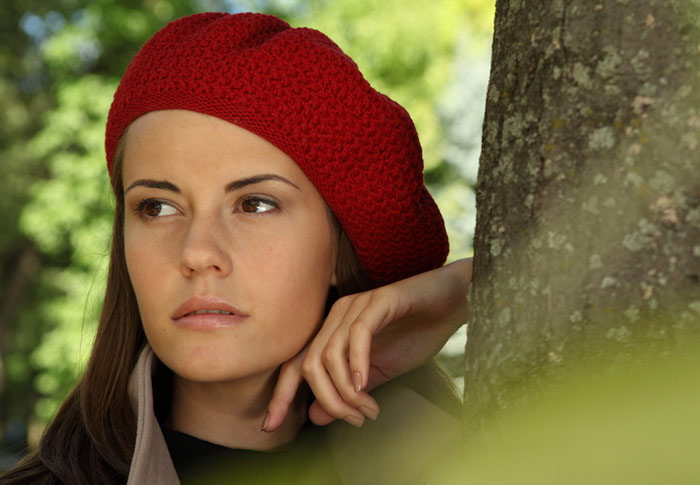 Berets
There comes the time that can be deservedly dubbed "beret boom." The concept of the "trend" includes absolutely any model: knitted hats, fur and velor berets, retro "pills", and stricter options… The designers including Polo Ralph, Peter Jensen, Donna Karan, Rodarte and others advise wearing berets along with dresses and elongated sweaters for greater femininity during this fall.
Hats
Once again, a hat has become the main accessory at a ball! This can be proved by an epidemic of models' appearances at the latest fashion shows, their head decorated with all sorts of styles and a variety of materials: leather, suede, velvet, and brocade. Here one can see cloche and wide-brimmed models, slauch and male models… Designers generously offer décor to decorate hats with brooches, stones, beads, and even feathers. In a word, the more complex the hat is, the more fashionable you seem. The ideas can be found in detail at Coach, Tibi, Ruffian, Comme des Garson, Yohji Yamamoto etc.
Caps and hats
Actual caps are now a more elegant variation of the classic examples of models. Their "holiday" appearance is largely motivated by the use of shiny materials and decoration in the form of metallic elements, leather and fur finishing, embroidery, applique, and patterns of rhinestones. Designers (Moschino, DKNY, Paule Ka, Red Valentino) recommend putting on such headwear with jackets, coats, and even fur outerwear.
Knitted hats
The keyword here is knitted, but it is up to you to decide what option to choose. Mini-hats, which fit the head tightly and have no decoration, large and warm models of "grandmother's" knitting, and thin knitted caps are all fashionable. Great fashion headwear for the fall-winter 2014-2015 season is presented in the collections of John Galliano, Lacoste, Tommy Hilfiger, Giles, Polo Ralph Lauren.
Fur hats
This distinctive Slavic theme has long been popular among the people of fashion who tend to use it in their collections every cold season. And this one was no exception: unusual earflap hats, Malakhai and Kubanka hats are at the peak of popularity. Complex patterns on the fur are yet another unusual trend, which enables the application of the most fashionable prints on this sensitive material. Fans of furs will appreciate the ideas generously shared by Coach, Daks, Nicolas K, Kate Spade New York, Crosby Derek Lam.
Shawls
The word "shawl" is not limited to the conventional classical concept these days. In the coming season, its variations include hijab, turban, and a bandana. Convenient and practical in cold and windy autumn, shawls will perfectly match the image of a sophisticated and self-confident woman. Besides, the use of shawls will appeal to all lovers of retro style. You can find interesting options of wearing this headdress watching the latest fashion shows of Manish Arora, Vivienne Westwood, KTZ, and Josie Natori.
More than any other season, the fall-winter period of 2014-2015 is rich on all sorts of caps, hats, caps, and baseball caps… All you need is to find the options that will suit your style and go searching for fashionable new clothes. Hopefully, you already know the information about the current updates of the season.