What do Tony Blair, the former Prime Minister of Great Britain; Francois Hollande, the President of France; and Lloyd Blankfein, CEO of Goldman Sachs have in common? Well, they are known to be admirers of Swatch. Each owns a couple of limited edition models!
Such is the allure generated by these simple, plastic timepieces that world-renowned leaders and businessmen (even the creator of ultra-luxury watches like Patek Philippe) own a few of them.
Apart from these people, Swatch watches are also in demand all over the world. According to a recent article in New York Times, these Swiss-made watches are so much in demand in Asia that their exports rose by 32% over the last year.
To clarify, we aren't even considering the other brands like Tissot, Longines, or Omega, that come under the Swatch Group umbrella. We're only focusing on the synthesised plastic models sold under the 'Swatch' tag.
So, what makes these timepieces so popular? What do these basic watches have that people around the world are going 'ga-ga' for? Well, read on to find out.
The Price Factor
Doesn't matter who you are: a watch critic or a first-time buyer, you certainly can't hate this brand. Simply because of the number of options at your fingertips at marginal prices. The good part about this is you can buy as many as you like! Have fun and be experimental – mix and match with your wardrobe.
Countless Styling Options
Unlike other brands, the majority of the Swatch watches are marketed for unisex use. Gone are the days when you shied away from buying a great watch because they were specifically made for the opposite sex. Take, for instance, the Swatch SUOB709_N from the originals collection.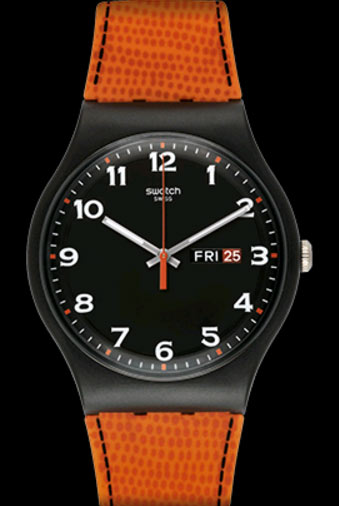 It features a simplistic design with a plastic case, a black dial with contrasting white numbers, and a day and date bar on the right. The strap is fashioned from canvas-like material and is orange with black seams, creating an effect that is both casual and striking. The best part about it? You can pair it with any of your ensembles and keep your look young and energetic.
Unmatched Swiss Quality
We all know that Swiss watches are the best in terms of craftsmanship and quality. This will help you understand the ever-increasing appeal of these plastic watches. Manufactured in the watchmaking hub of the world, Swatch collections come with the same high-quality movement that you've so often seen in other luxurious and high-end watches.
Fashionable Design
When Nicolas Hayek first started Swatch in 1983 by putting an end to the then quartz crisis, his whole ideology was built around providing people with watches that fit their own personal style. A little over three decades later, the company is still helping a lot of people around the world exert their own style statements with a multitude of watch options. There's a Swatch for everyone! The Swiss firm churns out two new models each year to let you stay ahead of the curve. Here are the top ten Swatch watches.
A Rare Collectible
Providing consumers with trendy watches is the edict at the core of the business. The creative minds behind Swatch, led by Nick Hayek Jr., constantly collaborate with other reputed watch brands around the globe to provide customers with numerous chic and exclusive editions. This move from the company has also ensured that if you buy a Swatch timepiece, it's a potential collectible. All the more reason to indulge in one! Or two!
These are just a few of the reasons why watch lovers around the world want to own a fashionable Swatch. How about you joining the bandwagon and getting your first Swatch on Ethos Watches?
References:
http://fortune.com/2014/08/10/ceos-swatches/
http://www.nytimes.com/2011/04/23/business/global/23swatch.html?_r=0
http://www.overstock.com/guides/top-5-reasons-to-buy-swatch-watches