Giorgio Armani is one of the world's most influential designers. He created the style that we use without even thinking what we used to have earlier. Armani has revolutionized the fashion industry, proving that luxury does not necessarily mean something uncomfortable and tight. His style has become synonymous with business chic and refined elegance.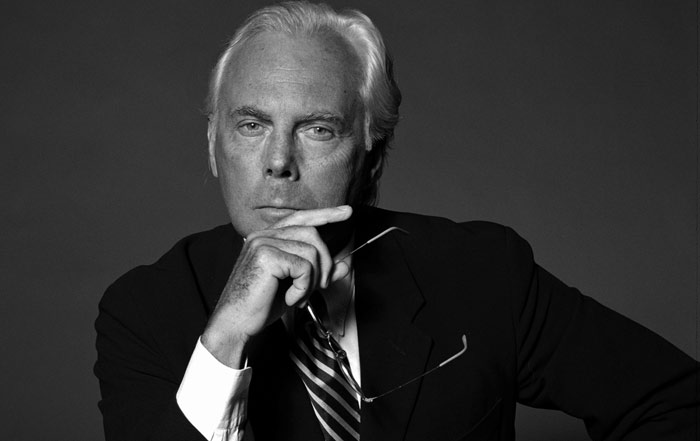 Geniusbeauty.com is sure that the ingenious designer's useful tips are suitable for every woman.
Being elegant does not mean being eye-catching, it means being memorable.
Giorgio Armani became famous worldwide due to Hollywood. The designer was frequently spoken about after the 1980 movie "American Gigolo" with Richard Gere in the title role, dressed by Armani from head to toe. All the men immediately wanted to look like this character – wearing Armani jackets, trousers, shirts and ties.
The difference between style and fashion is the quality.
Armani's distinguishing features include a perfect cut, soft fabrics and minimalism, often called small perfection. Any clothing designed by Armani is characterized by quiet elegance and a harmonious unity with its owner.
For example, a cheap pair of shoes is a bad way to save money. We should not skimp on the main things, and shoes are the foundation of our wardrobe.
According to him, looking sexy is the question of feeling confident. This is the state of mind as much as the state of the body.
Armani says that he wanted to be tall and have a remarkable nose. But we should be content with what we have and try to use it as efficiently as possible. Do not waste your life, trying to change the things that cannot be changed.
The famous designer is glad that people want to be elegant again today. Elegance is the key to appearance; it is not influenced by time; it never goes out of fashion, which means you will stay fashionable too. For him, style is more important than the short-lived fashion trends.
Armani has changed the laws of fashion radically, creating new standards in the fashion industry. He eliminated the unnecessary ornaments and introduced sports items into the business and evening wear. He created a special uninhibited style that defines the modern wardrobe for men and women throughout the world and designed more spacious jackets and trousers, allowing people to move freely and without losing office elegance.
We should not get too zealous, choosing clothes: the most stylish people look as if they are not making any effort to improve their own appearance.
At the very beginning of his career he abandoned quilling and ribbons and proclaimed absolute minimalism to be the main principle of his work. Carelessness is a distinctive feature of Armani's style. Having softened the silhouettes and fabrics, he made the clothes much more enjoyable and comfortable.
Armani believes that black and dark blue are more slimming than other colors. Sticking to this color scheme, you can afford to experiment with shapes and textures.
A carefully-chosen fragrance can become another hallmark of yours. Armani has put it remarkably well, saying that this is the first thing that people feel when you enter the room, and the last thing that disappears when you leave.
Another tip is to choose fabrics of neutral colors, with no bright patterns – they will serve longer in terms of fashion.
Armani has always wanted to help men and women feel comfortable and confident in the clothes they buy instead of producing fashion for the sake of fashion. Style is the only luxury that you can afford whether you have much money or not.