Racing at Ascot is one of the most striking (both literally and figuratively) public events of the season in England. Last year, however, the dress code was tightened. Being tired of the mini-dresses, acid colors, an abundance of nude bodies and ridiculous decor, the organizers asked the guests to think of their outfits more carefully.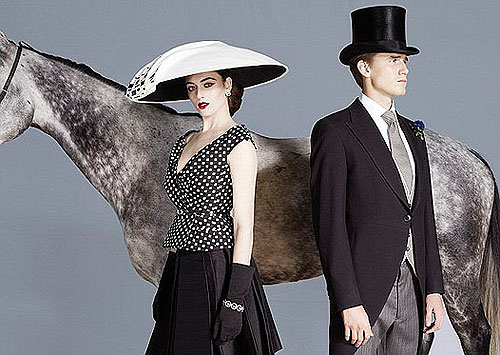 The promotional images of the campaigns in support of the Royal Ascot have recently been published. The images are supposed to present the outfits in which – in theory – spectators must appear at the races. Strict dresses, pleated skirts, jackets and blouses in quiet tones – such elegant ladies can rarely be seen at Ascot! Of course, the event was not without hats – their design had been thoroughly developed by Stephen Jones, whom Anna Piaggi called "the creator of the best hats in the world."
The photo shoot itself, made by Simon Procter with Charlotte Pallister posing for him, was inspired by the collections of Christian Dior haute couture of the 1950-s, as well as the legendary photograph by Richard Avedon, Dovina with the Elephants, placed in 1956 in the pages of Harper`s Bazaar.
Before you begin to consider the photos, we suggest recalling the new Ascot dress code – in case some of you are lucky enough to get to this important and beautiful event!
So, first of all, you need to get a dress or a skirt of decent length (that is, either just above the knee or below). If you intend to put on a top, make sure that it has fairly wide straps. You can wear a coat or a pashmina, but this does not negate the compliance with all other dress code requirements. Pantsuits are also welcome. A hat is required. However, a headdress with the diameter of more than 10 inches could be an alternative.
But what is really necessary to forget about, if you think of the races, is a mini-skirt, shorts, strapless tops and dresses, exposing one shoulder or showing a too deep neckline.