Penelope Cruz's younger sister Monica is not willing to live her life in the shadow of the famous relative. Monica likes to surprise her fans with new facets of her talent. This time the Spanish model/actress became a star of the fall-winter campaign for the famous Agent Provocateur brand.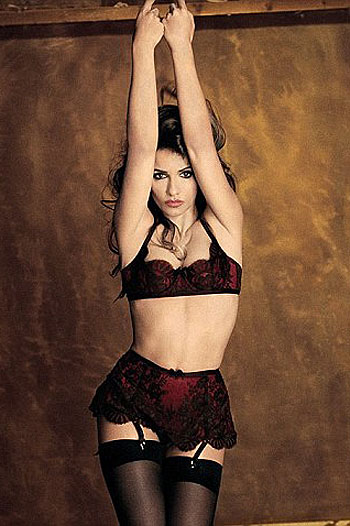 The London House of Detention was chosen as the venue for shooting. Chains, chairs, more suitable for torture than for interior decoration, brick loopholes have become a comfortable entourage for Monica, who appeared in the pictures in provocative lingerie and black openwork stockings (just the right main character for 50 Shades of Gray).
The brand's creative director Sarah Shotton spoke about the concept of the shooting:
"I wanted it to be romantic Goth, so it's quite dark but quite beautiful …. It's nostalgic but true to the brand in dark shades of red and purple. It's set in a Gothic underground space, brought alive by Mónica's frenzied and fantastical performance. Mónica is a beautiful embodiment of the Agent Provocateur brand, knowingly sexy and empowered by her own sensuality."
The photoshoot was called "Wilhelmina: Show Your True Self".
Update: And below you may see the ad video of Monica Cruz dancing in the Agent Provocateur lingerie: