Despite being around for almost a century, Converse All Star sneakers haven't changed too much in terms of design, according to a recent article by Couponbox. And why would they need to? Whether they're being sported by 60s fashion icon Twiggy, 80s punk rocker Joan Jett or pop sensation Rihanna, All Stars exude a sense of authenticity that isn't restricted to a specific period of time. They reflect the uniqueness of whoever is wearing them.
Created in 1917, Converse were originally sports shoes, but since the 50s and 60s they've been a fashion staple amongst men and women alike. Women in particular have found quirky ways to incorporate these shoes into their wardrobes. Converse All Stars come in a variety of colors and styles, meaning that there's a pair out there for everyone. With winter fast approaching, Chuck Taylors are an ideal footwear choice: comfy, stylish and extremely versatile.
While fashion trends come and go, the effortless style of Converse All Stars remains constant, whatever the weather. The great thing about them is that they go with pretty much anything and are very gentle on the feet. Take a look at some of the trendy ways you can rock your All Stars in the cooler months!
With a Maxi Skirt or Dress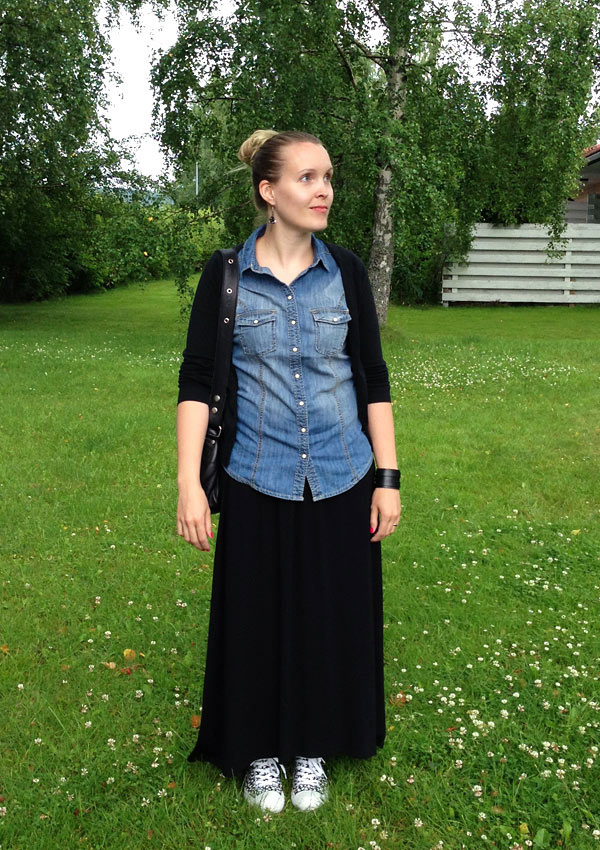 "July 10th, 2013" (CC BY-SA 2.0) by joan!ta
Who says you can't wear sneakers and a dress? The long dress and Converse combo is a strong look that combines elegance and comfort. It's the perfect way to rock a long dress in the day without looking too overdressed and it's super warm too!
With a Blazer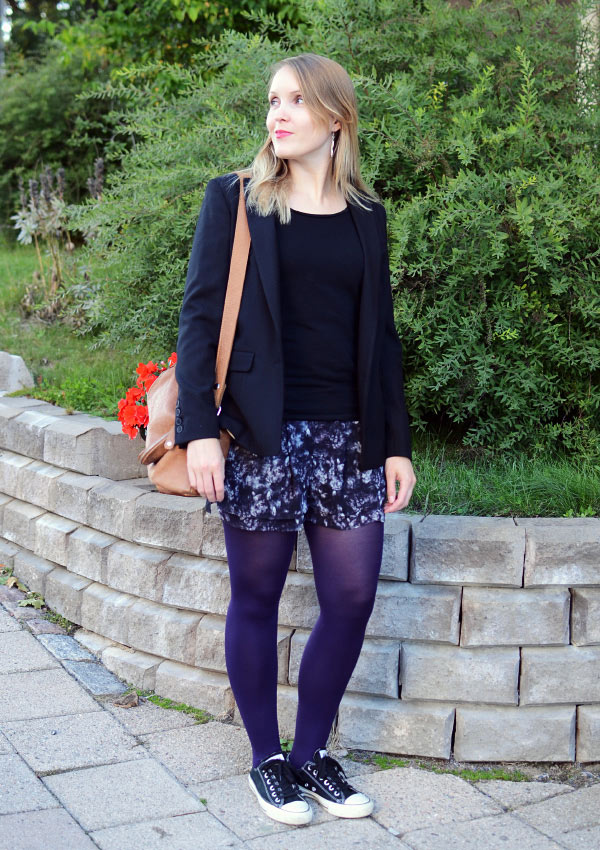 "September 5th, 2013" (CC BY-SA 2.0) by joan!ta
Now that's what I call business casual! Say goodbye to uncomfortable heels at the office. The great thing about Converse is that they're very subtle; they blend seamlessly with almost any outfit, giving you the option to remain comfortable all day.
With a Leather Jacket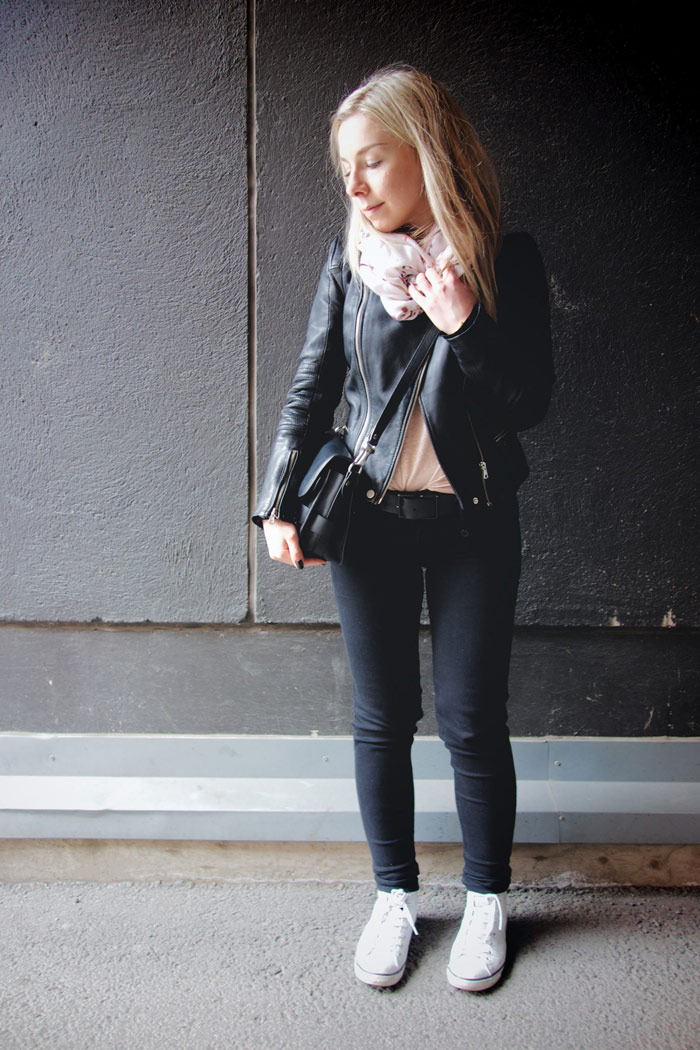 "messuasu2" (CC BY-SA 2.0) by Idhren
This 70s punk rock look screams effortless cool. Try it with a pair of bootcut jeans to give it that retro feel.
With Leggings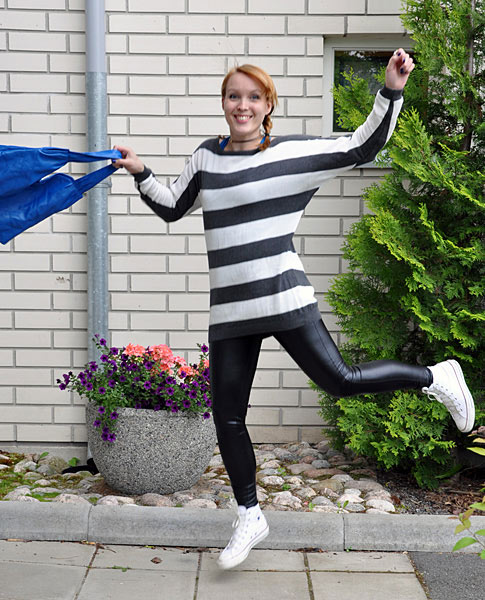 "June 18th, 2010 (pt. I)" (CC BY-SA 2.0) by joan!ta
These wet-look leggings look amazing with her white high-tops. A perfect outfit for a busy day out and about.
With Ripped Jeans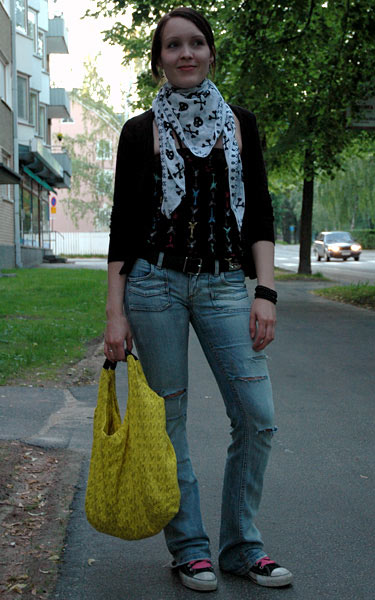 "July 3rd, 2008" (CC BY-SA 2.0) by joan!ta
Ripped jeans are back this season and don't seem to be going away any time soon. They go perfectly with Converse All Stars as they create a very 90s grunge aesthetic.
With an Oversized Shirt
Nothing says 'winter' like an oversized shirt! Keep it cozy and cute in the cold months by pairing your Chuck Taylors with your favorite baggy button-down.
With a Trench Coat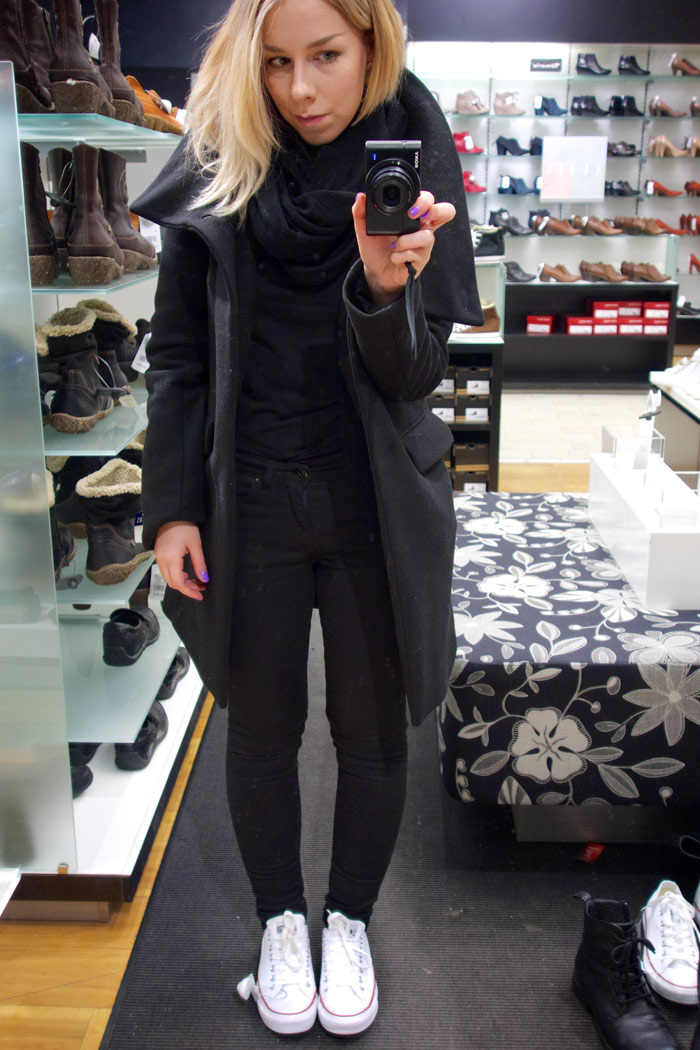 "fitting converse all star white 3" (CC BY-SA 2.0) by Idhren
A winter staple, no wardrobe is complete without a trench coat. Revamp this classic garment with a pair of low tops.
With a Mini Dress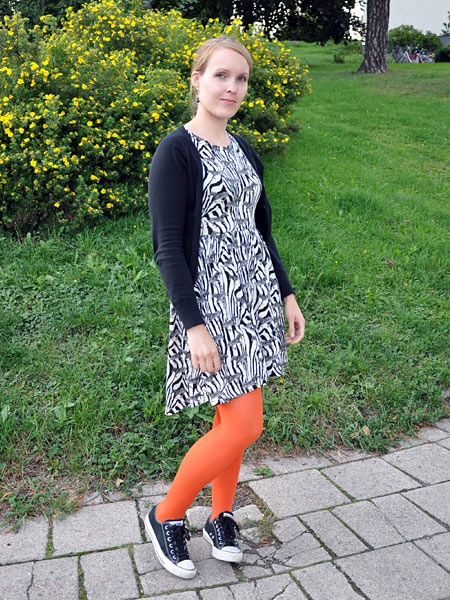 "August 24th, 2012" (CC BY-SA 2.0) by joan!ta
This outfit is super cute and proves that Converse can go with anything! A black mini-dress and low tops make for a perfect nighttime look, but make sure to wear pantyhose so you don't get too cold!
With a Statement Scarf
Try matching your Converse with your scarf this season because coordination is key.
But remember, this is not an exhaustive list. The greatest thing about Converse is that they're adaptable and complement pretty much any ensemble. So this winter, see if you can personalize this timeless classic to fit your style.