Do you remember where your favorite bikini is stored away waiting for sunny days to set in? Oh, have you forgotten? It's probably to the best: treat yourself to a new one and make yourself feel sort of refreshed and revitalized. With that aim in view, you will have to solve one important question: what trend will enable you to stand out more? Unless you are of the happy ones who never doubts what will become her most, this article will empower you to hit upon the very thing that would make your summer.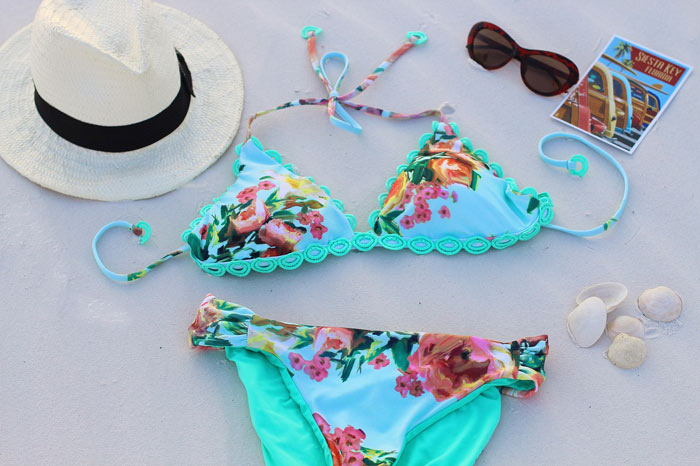 So first let's look at the trends (your colors you know already, right?). One-piece or two-piece stuff? If finely touched by accessories, a basic one-piece swimsuit is guaranteed to satisfy, being definitely in again. Choosing a two-piece suit, you think whether you want it high-waisted or not.
Then, crop-top with briefs that give you an enticing sportive look.
You take pride in your waistline – there are belted swimsuits to put your best line forward.
One-shoulder swimsuits will do your shapely shoulders full justice.
A plunging neckline can accentuate your enviable breasts.
Mismatched bikinis are one of the ways to draw attention to your gracefully moving figure.
A crocheted or tasseled swimsuit may add that extra bit of elegance to your seaside image.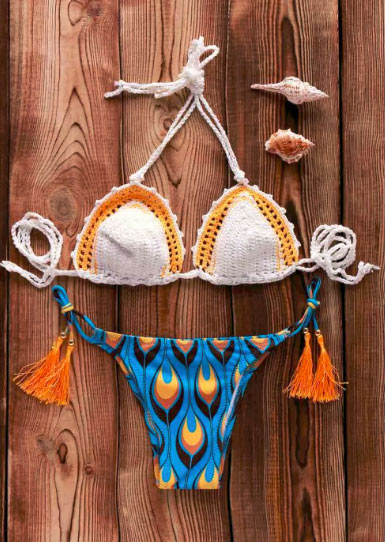 Sporting suits that are designed for active wear have an advantage of being available with all the extra features you may have a special liking for.
The 90s awesome trend, high-cut swimsuits, go back with a vengeance, giving you a possibility to pick the right cut for you.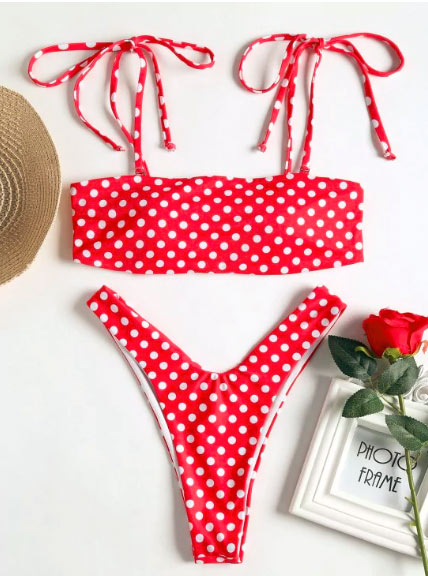 Or these ever-popular string bikinis. This summer they sport more strings than ever, with additional attractions like lace or sheen, and there are risqué versions available for the bold Beauty of the Beach.
Come to think of it, choices are multiple and good. Assumedly the most noteworthy of them is vintage style bikini which can feature many elements of those we just enumerated. For the hottest samples of these, we can go to, say, Zaful and check what they can offer. The style and color variety can be appreciated here. Your eye is sure to be caught by some extremely awesome item.
How do you like denim high waisted vintage?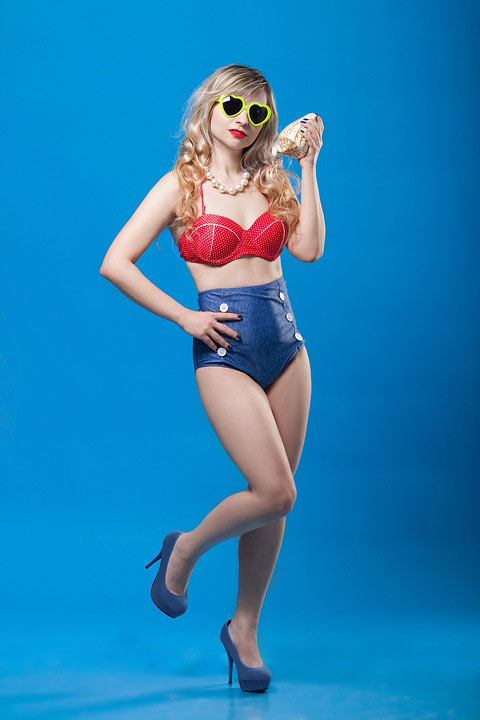 Enjoy the leaf prints they offer that practically let tropic air into your room.
Feeling playful? You will be thrice so in wire free tube cheeky bikini (and other "cheeky" items).
Easy-to-do front zipper retro print for more color… But it's so easy to get lost and pop-eyed, without knowing what to focus on.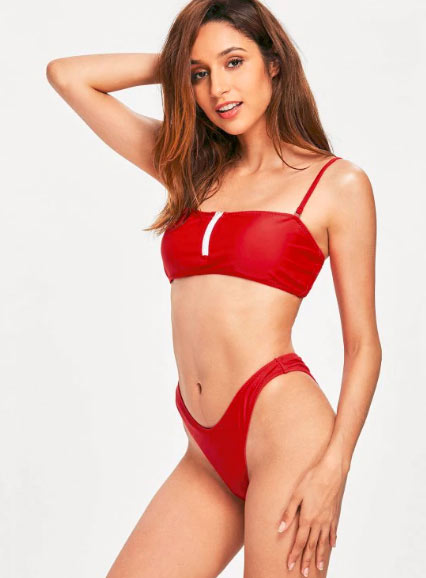 Let's take, for one, one-color, tan-offsetting bikini piece with a ruffled shoulder top. Simple and strikingly good, allowing you to put all your gorgeous curves into play.
Further your ideas and check out asymmetric ruffled bikini – high-waisted, with a padded bra but wire free. At a discount, by the way, with an added pleasure of making a bargain ($16.91 at Zaful.com).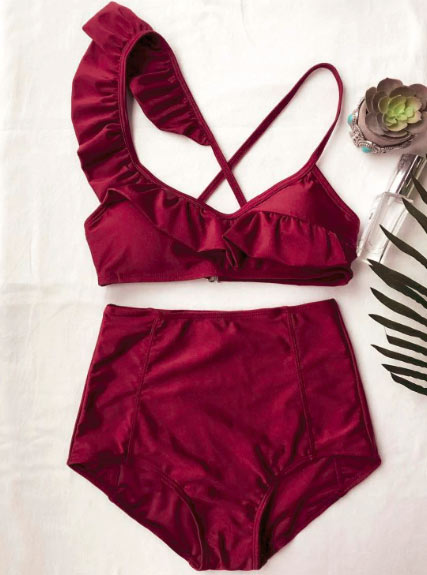 Now you don't want your bikini too dark. What about an eye-catching pink one, high-cut, ribbed, implying softness and tenderness? You will find there is a sale too (found on Zaful.com for $14.49).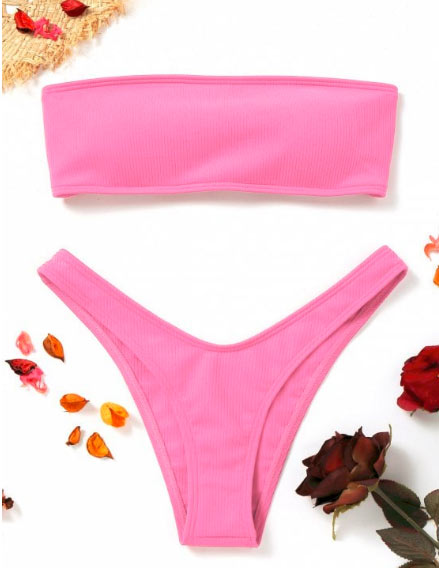 Halter top bikinis are easily adjustable, which may be a ruling point in their favor. Go for the shape, pick a scalloped one of beautiful wine color with a removable strap as a special touch. Low waist.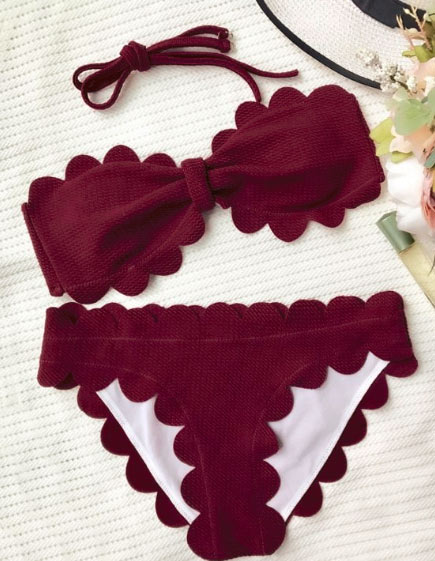 Or make your statement with flowers: an elastic, padded-bra suit with sensuous flowers against a dark background for those with a nice backline and wanting everyone to admire your abdominal line, too. This one costs only $15.47 on Zaful.com.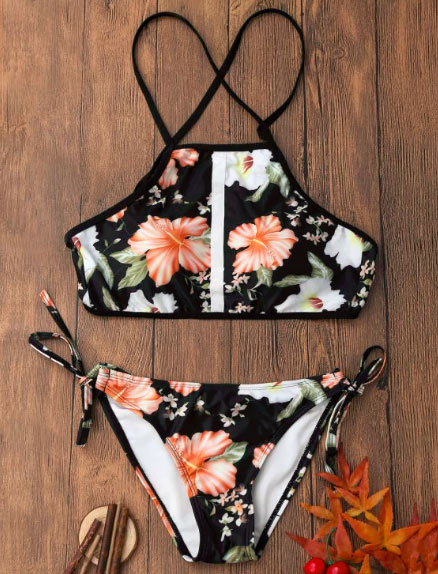 You haven't forgotten to give a look to good old leopard-print choices? Here is a bandeau padded example, strapless for accurate tan lines, and a choker collar to complete the ensemble. Not shriekingly modern, yet deadly impressive.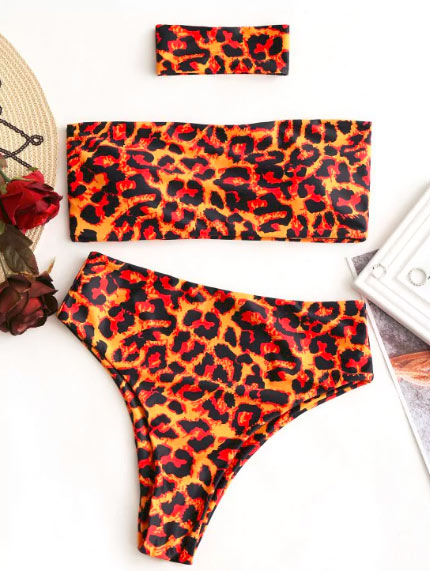 Then you can go a step further and get a one-piece swimsuit that is almost a two-piece one! It is nicely revealing with a cutout bandage in the middle and a plunging collar, fitting for any kind of water activities.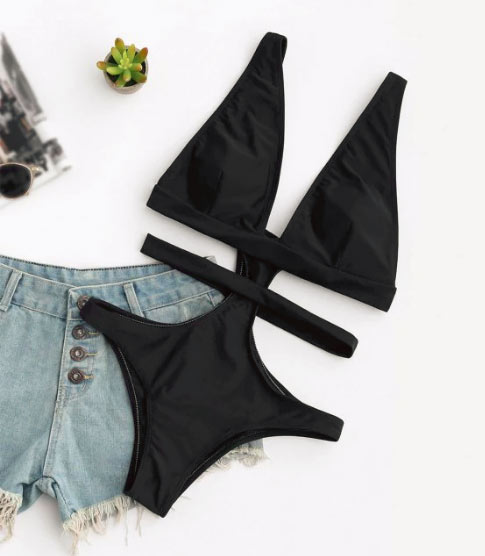 Make sure the ultimate choice will enable you to fully enjoy your in-water moments as well as your on-beach appearance.
Sources of the images: Zaful.com, Pixabay.com.