The black color, crosses, strict straight silhouettes – these are the main motifs of the new collection by the Versace Fashion House, which undoubtedly will delight the fans of the Gothic style and rock-chic.


Donatella Versace admitted that she had finally had enough confidence to do what she had wanted.
In the new collection, the designer uses leather, mesh, metallized elements, and a bra in the shape of a coffin. High collar, long sleeves, armor-like corsets, shimmering crucifixes that adorn coats, dresses and skirts send us back to the medieval style and the bloody religious wars of that period. At the same time, the collection is still characterized by the corporate chic and the sensuality of Versace.
The new creations of the House correspond to the spirit of the latest collection, created by Gianni Versace, which was also pretty gloomy. Finally, Donatella Versace also ventured to explore the "dark side" of life. It took her 15 years to be able to replicate the spirit of that collection. She admits that the idea of doing it was constantly spinning in her head, but she was not ready, and it was something very personal for her.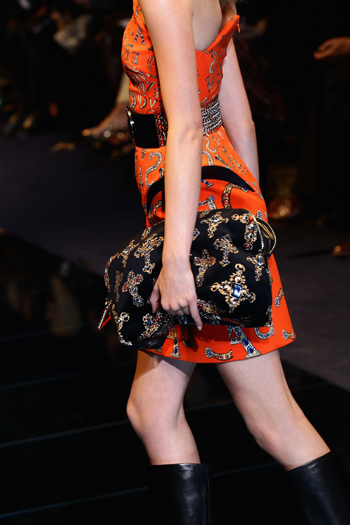 However, the result is really worthy. Our applause!