The advertisements of Calvin Klein Jeans were removed from the billboards in Sydney and Melbourne after about fifty complaints had been received. The reason for this action was the choice of very sexual images that had been used in the advertising campaign of the fashion house.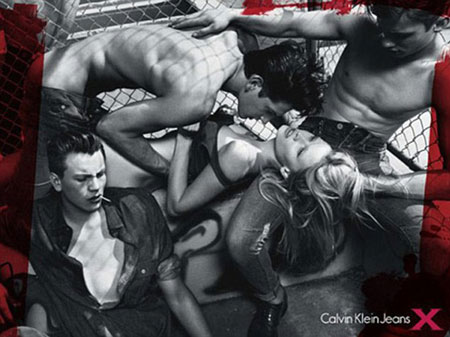 The posters depicted the Dutch model Lara Stone in the company of scarcely dressed young people. It is curious that the model from the advertisement seems not to be wearing jeans and underwear, and the violent countenance of one of the men in the poster makes a negative impression of the whole scene.
Explaining the decision to ban the ad, it has been decided that such images are demeaning to women, who seem to be a plaything in the hands of these men. The poster also humiliates men, implying their sexual violence against women. The disadvantage of such advertising is that it produces a negative effect and suggests rape and violence against women. Moreover it adversely affects the teenagers, who probably pay attention to billboards.
Calvin Klein Jeans has become a well-known brand thanks to many years of advertising campaigns involving very sexy images. Thus, even in 1981 their advertising involved the 15-year-old model Brooke Shields. The girl smiled in the posters telling that there was nothing between her and her jeans. After this, there was a violent scandal. The famous designer was accused of using teen pornography. The scandal was fought down, and the new line of jeans was removed from production.
Source of the image: Dailymail.