Karl Lagerfeld has personally chosen a successful young actress Blake Lively
to advertise Mademoiselle handbags. The famous fashion designer was drawn by Blake's young and fresh image, as well as her innate sense of style.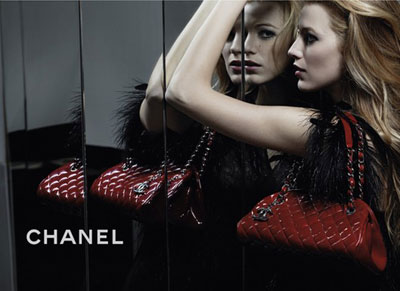 The star of the "Gossip Girl" series says she finds Lagerfeld's choice so touching: "It is an honor for me to be chosen by Karl Lagerfeld and advertise the new models of Mademoiselle handbags".
The Mademoiselle handbag changes with time, but the passion for noble materials remains a constant feature of this model. It is always made of exquisite leather – calfskin or sheepskin. In the case of fabric bags, jersey or satin are used. No less luxurious models are made of the skin of alligator or shagreen skin with a slight pearly hue.
As for the colors, red, pink, orange, black, and dark blue will be widely used this season. A golden or metallic sheepskin will be a luxurious variant. And, of course, each handbag is quilted in a unique way that is known only to Chanel, and the secret is still being kept since the days of Coco. A handle in the form of a chain and a pendant with the Chanel logo are obligatory details of the bag.
Blake Lively is famous among the designers. For example, a model of the shoes called «The Blake» for Blake Lively from Christian Louboutin appeared as a result of her friendship with Christian Louboutin.
Source of the image: Sassisamblog.