When it comes to dressing for the airport, from the catwalk of leggings, slouchy tops and hoodies, you may not think there is much of an art to it. However, carefully considering what to wear to the airport is almost as intense as dolling yourself up for a night out. Feeling completely clueless? Don't worry, we have all the tips you need to ensure you're comfortable on your flight.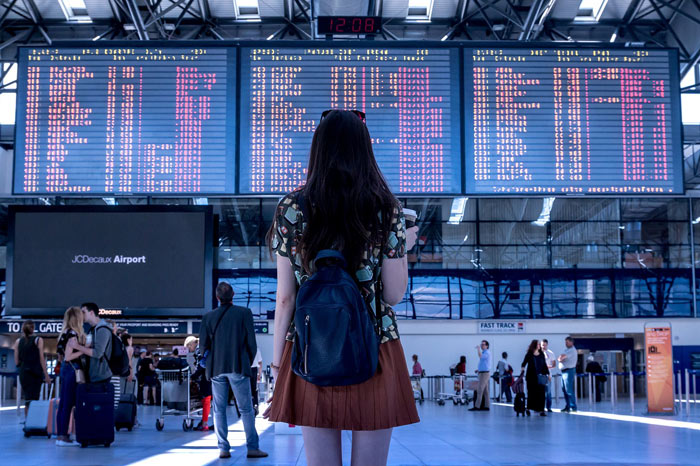 Never Dress for the Destination
Whether you're hitting beach paradise or a winter wonderland, you shouldn't dress in order to climatise straight away to your destination. Generally needing to arrive at the airport a good couple of hours before take-off, think of all the time you'll be spending cooped up in the airport. Not to mention your flight, no matter how short it may be. Those denim shorts and flip flops won't be comfortable to sit in, especially in a well air-conditioned airport and plane.
On the flipside, do you really want to haul that ski jacket around with you all day, especially as, from leaving for the airport to touching down, you won't need it until the very last minute. In the short moments of being outside before you get your transfer to where you're staying, consider whether you can survive a little longer before you strip off or bundle up. A strappy top and flip-flops don't even weigh much, so you could always have them ready to change into in your hand luggage.
What Clothes to Wear
Anything loose which gives you some flexibility is a great starting point for what you should wear for your flight. Baggy tops over leggings or jogging bottoms mean you'll be able to sit comfortably, unconstrained on your flight and be cozier if you fancy a doze. It'll also be a happy medium, keeping you both not too hot and not too cold, with the ease of adding or taking away layers if and when you need. For a light extra layer, bringing a shawl along could be a great extra to tuck away in your hand luggage. In the instance that there are delays or cancellations, wearing comfy clothes you can move freely in will allow you to settle more comfortably into the airport whilst you try to patiently wait.
Footwear for the Airport
When it comes to airport security, you're likely to be asked to remove your shoes. Make your life easier and avoid those unhelpful groans from the people behind you in the queue by choosing footwear styles that are easy to take off and put back on again. Shoes with laces, buckles or zips probably aren't the ideal choice if it takes you longer than a couple of seconds to remove and pop into one of the trays to be checked. Ballet pumps, loafers and espadrilles are probably the best styles in terms of enclosed footwear also fit for your time spent in the airport as well. If you really can't be without that pair of boots and they'll add too much weight to your luggage? Do everyone a favour and start unzipping and buckling before you get to the front of the queue.
Avoid Accessories
There are those pieces of jewellery that people always wear, but it's a good idea to try and avoid overly accessorising where you can. Belt buckles and jewellery can sometimes set off the scanners going through the airport security, resulting in delays and you experiencing an uncomfortable pat down. If you can't go anywhere without that necklace or ring, consider slipping them off and depositing into the tray to escape any potential embarrassment, or leave at home altogether. You wouldn't want to lose them whilst you're away.
Dressing Your Kids for the Airport
Just like you, you want your children to be comfortable. Why not consider dressing them in their pyjamas or a onesie? Not only will they be in relaxed clothing that's easy to move in, but it could very well set them in the right frame of mind. Namely calm. Better still, you might just board that plane and find them ready to curl up and have a sleep. This is especially ideal if you're taking an evening flight and live in fear of a sleep deprived, overly tired child to contend with on your first day of holiday. Besides, who wouldn't find Batman and a unicorn adorable whilst waiting endlessly in airport queues? Easy to pick out, it just makes sense. We know you'd be opting for pyjamas too if you knew you could get away with it.
Dress for Upgrades
If you're feeling particularly lucky, you could throw everything we've already said aside and put an effort in to look smart. It's pretty unlikely, but if a business professional outfit could see you scooping up an upgrade, whether as much as shuffling you into a spacious business class seat or simply be allowed to board before everyone else. Like we said, it's unlikely. But if you fancy a challenge and don't mind being constrained and uncomfortable in a crisp suit, then why not?
Alice is a blogger for Parking at Airports, writing all the best travel advice for when you're about to jet off. You can also find competitive prices for airport parking all around the world and save up to 72% off. When she's not working, Alice enjoys getting lost in a book, hanging out with friends and planning her next trip away.