Alexander Wang, one of the greatest masters of contemporary fashion design, has presented his new collection to the public as a part of NY Fashion Week of the Spring-Summer 2013 season.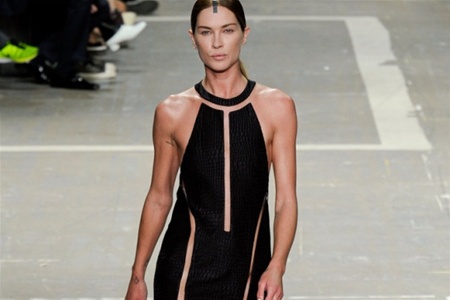 The story begins with the most interesting fact – the final of the catwalk featured modest Alexander Wang, always concerned about streamlined forms, in his true colors. The items from his collection glowed in the dark with phosphorescent yellow and green lights, illuminating the hall and the enthusiastic faces of the audience.
However, it was not only the flashy neon light that caused the delight of the guests. It all started much earlier, when sizeless square coats and jackets appeared at the catwalk. Obviously, they were "borrowed" by the models (including Liberty Ross, the wife of director Rupert Sanders, whom Kristen Stewart had an affair with) from the wardrobe of their boyfriends. One could also see cycling T-shirts, skirts, dresses and shoes with big cuts all over the designed items that seemed to be composed of separate fragments of fabric connected by invisible threads. The cuts on the fabric scarcely resembled artistic chaos or trendy vandalism, which could be the product of an epileptic genius imagination. On the contrary, the bold desicion of the designer spoke of his cold logic and accurate calculations, which marked the beginning of a new era of Alexander Wang style.
The designer termed his discovery as Tron-like effect, resulting from the creation of words on the subject of the digital sci-fi masterpiece "Tron: Legacy". He used it to create the simulation of the spine of cold-blooded reptiles – the inhabitants of fantastic galaxies.