Polo shirts have become classics. Initially, these shirts were created as sportswear, but gradually they moved into the everyday wardrobe and were good for a picnic, city life, and business casual. In any case, a polo shirt proved to be relevant. Depending on the situation, polo shirts are suitable for any style of clothing and can complement almost any outfit. The main thing is to combine it with other clothing and accessories in a right way.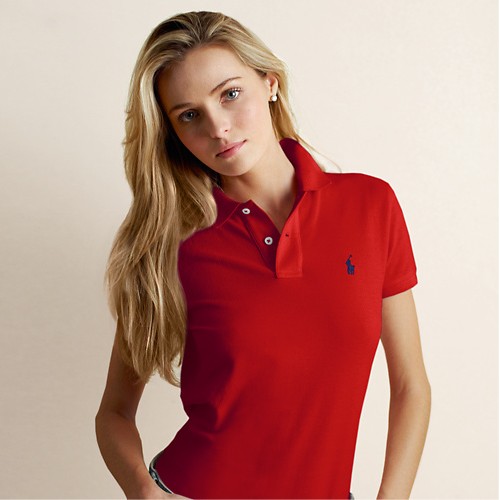 A polo shirt can be chosen according to the situation. There are many colors, cuttings and fabrics which are used for sewing shirts. One should find the right shade of a shirt according to the natural skin tone. In addition, it is necessary to take into account the colors of the ensemble as a whole. A polo shirt made of cotton with a small amount of elastic fibers will fit the body more tightly and create a sportier look. Cotton or knitted polo shirts fit the figure less tightly, and they are better worn untucked.
For office style, one can combine a polo shirt with a blazer in the casual style. The shirt is tucked into the trousers or jeans. All the buttons, except the very top one, should be fastened. The corners of the collar should remain under the cut of the blazer.
For a picnic or a party outdoors, you can wear a polo shirt with shorts, and to make the image a bit more original, the set can be complemented with large ornaments on the neck and hands. In addition, you can tuck a shirt in shorts and highlight the waist with a decorative belt.
A polo shirt or a polo T-shirt are a very stylish and convenient solution for sports. Polo shirts are popular among the people engaged in various sports, especially golf or tennis. However, a polo shirt made of elastic fabric is suitable for any other physical activity.
For everyday life, one can choose a polo shirt made of stretch cotton or jersey, which can be safely put on with jeans or comfortable pants. You can leave the shirt untucked. For the figure to look proportional, it is necessary to take into account the length of the shirt: its bottom edge should be approximately at the level of the pelvic bone.
Do not wear too loose polo shirts, because they make the figure much bigger than it actually is. An ideally fitting polo shirt will highlight all the advantages of the figure.