A swimsuit can be considered one of the most dynamic items of the female wardrobe. Each new season brings more and more bold models. We have collected those in our hottest review. Have a pleasant time viewing it.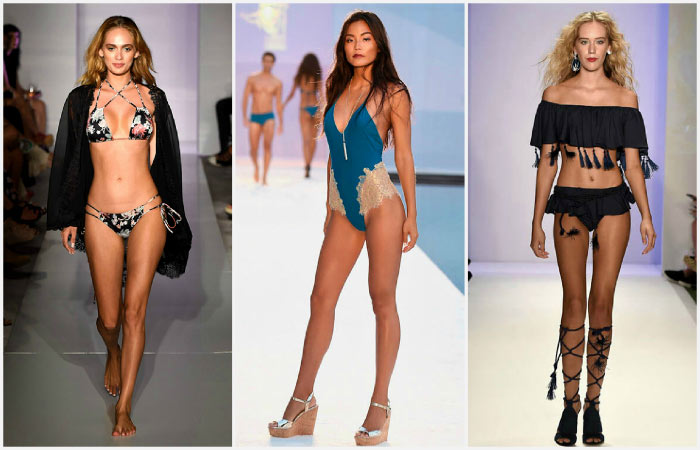 1. Mayo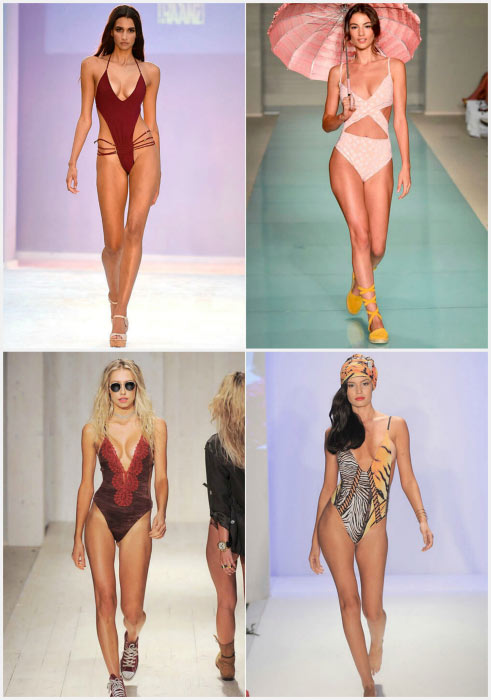 Mayo-style swimwear is a variety of one-piece swimsuits and an undeniable favorite of this summer. Its typical feature is a deep V-neck. Mayo swimwear is best suited for girls with wide hips, as well as happy owners of an hourglass body.
2. Monokini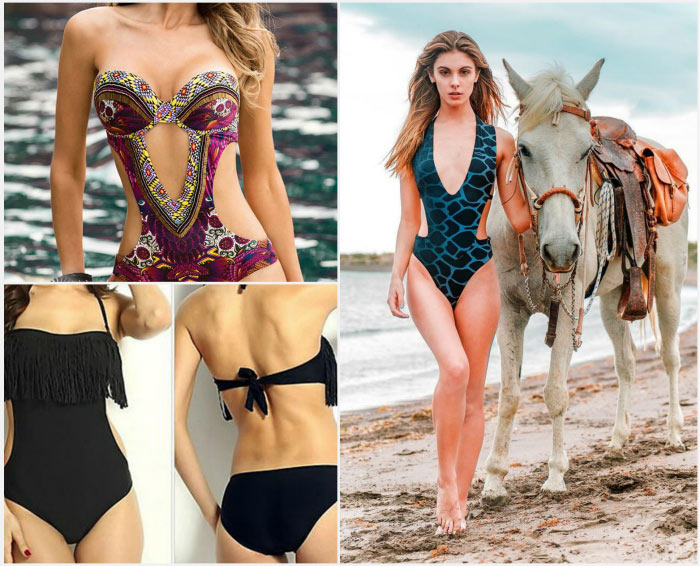 Monokini is quite an interesting and popular one-piece swimsuit, where bra and panties are connected only in the front. Models in black look very stylish, as well as items with bright prints, straps, fringe and unusual cuts.
3. Animalistic print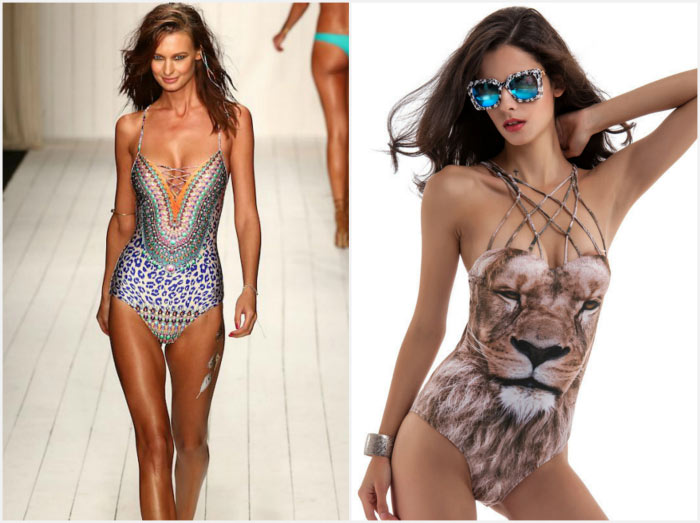 All lovers of animal prints can rejoice, as these are perhaps the favorites of this year's beach fashion. Among the most popular models are one-piece swimsuits with animal print and monokini swimsuits in tiger and leopard style.
4. Sports style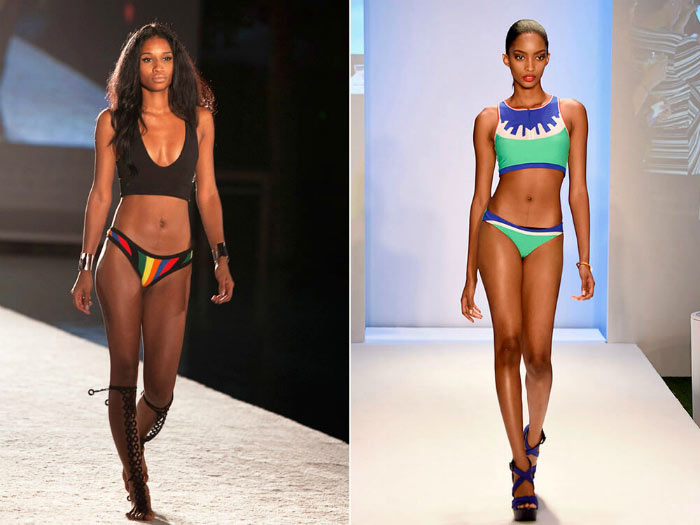 Despite the fact that sports swimwear has lost its positions compared to the previous season, it has still received considerable attention from designers this year. Anyone who wants to combine comfort and recreation should choose two-piece swimwear of bright colours this season.
5. Halter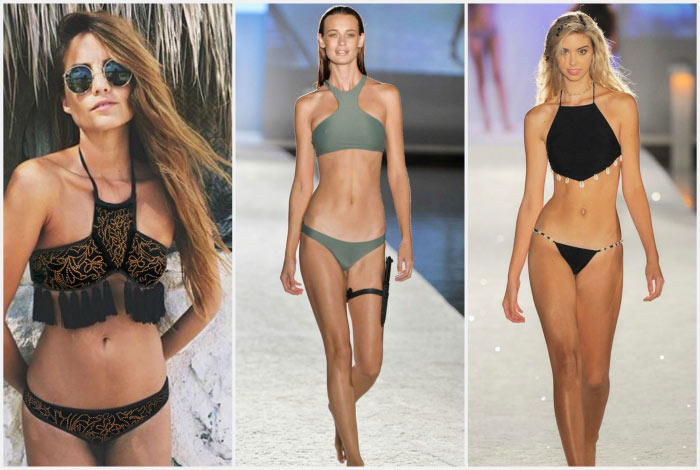 Swimwear with unusual halter tops, which are fastened or tied on the neck, are unanimously considered a hit this summer. These swimsuits are no less convenient than sports swimwear, and, thanks to the drawstring at the neck, you will be able to get a smooth and beautiful tan, just unleashing them. In addition, a huge range of different models and colors will allow you to choose the most suitable option for yourself.
6. Straps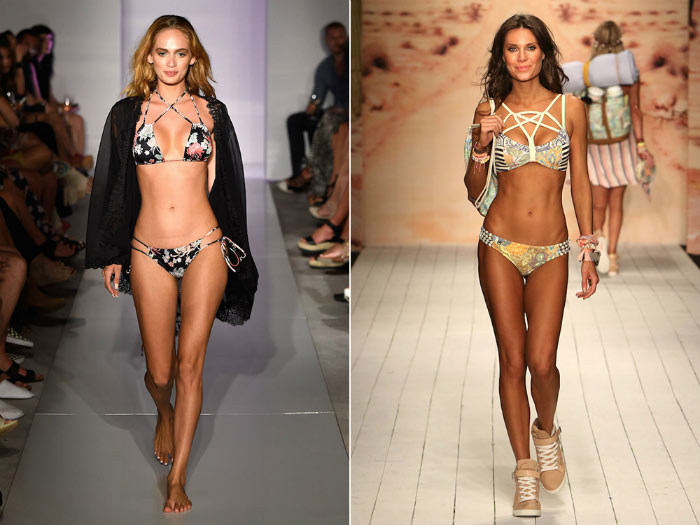 For daring, bold and sexy girls, designers have created swimsuits adorned with various straps and laces. In most models, these decorative items adorn the bust, waist, or thigh area.
7. Long sleeves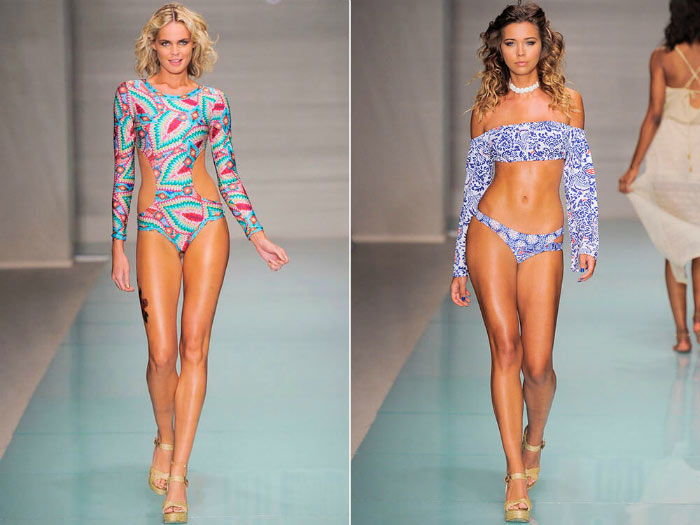 In contrast to bold two-piece swimwear, models with closed sleeves have come into fashion. Long sleeves decorate not only classic swimsuits, but also monokinis and tankinis. Models with bright prints and open shoulders are the most relevant this season.
8. Asymmetry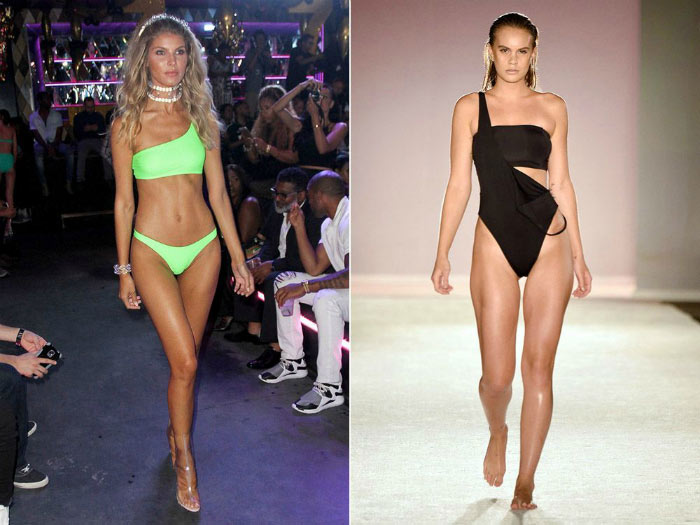 Asymmetry is one of the undeniable trends of 2017, which has touched upon women's swimwear, as well. Designers presented a great number of one-piece and two-piece one-shoulder swimsuits. Some swimwear models are very similar to the popular bandeau model, only being more convenient and practical – the straps make sure that the bodice does not slip.
9. High panties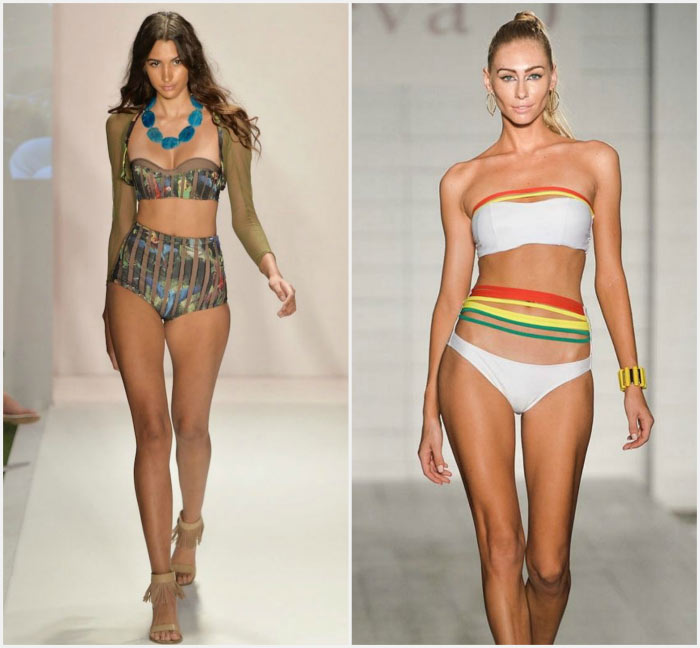 The swimwear of the 70s-80s comes back into fashion, and the models with high panties and a wide bodice are all the rage. These swimsuits are equally good for the owners of perfect bodies and plus-size girls. They accentuate the alluring curves of the female body.
10. A "transparent hint"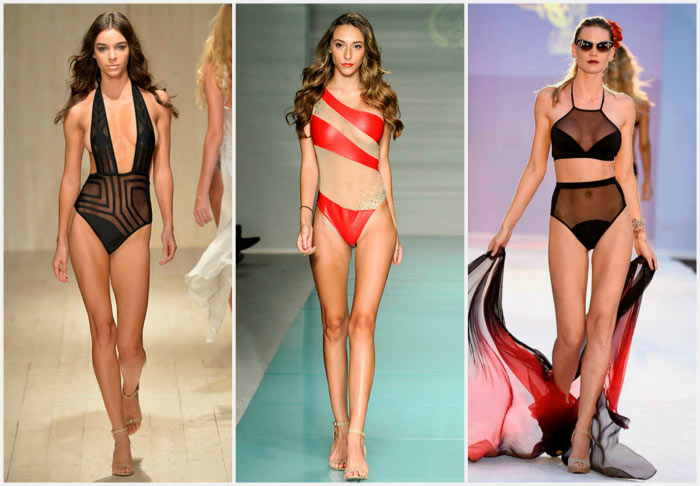 Uninhibited girls and all those who managed to make their bodies fit for the summer are sure to like the seductive swimwear with translucent insets of guipure and lace.
11. Tassels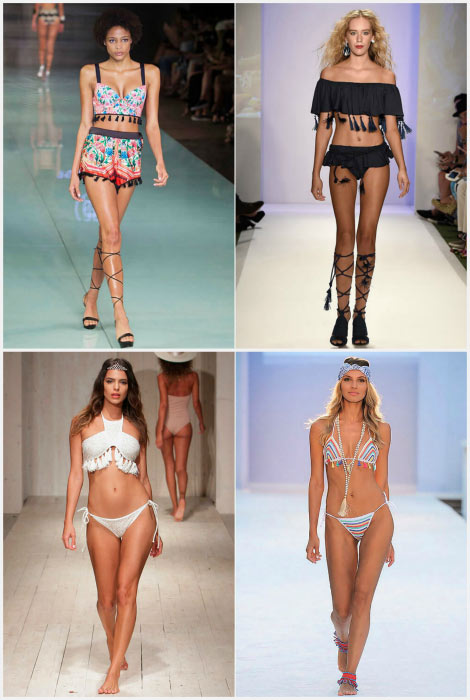 Petite tassels adorning literally the entire beachwear came to replace the last year's fringe. It is worth noting that the new fashionable trend looks very fresh and interesting, and it undoubtedly deserves attention.
12. Flounces and ruffles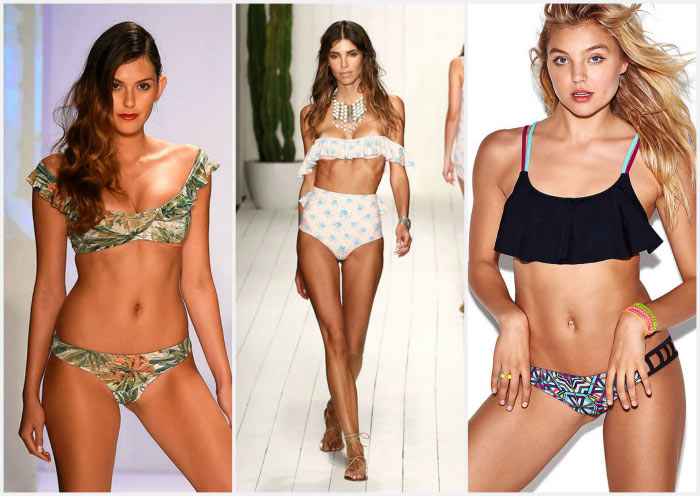 Flounces, frills and ruffles can be called the most romantic and feminine swimwear trend this season. Moreover, tiny frills and layered ruffles are equally popular. They can decorate strapless bodice, panties or the whole set.
13. Nude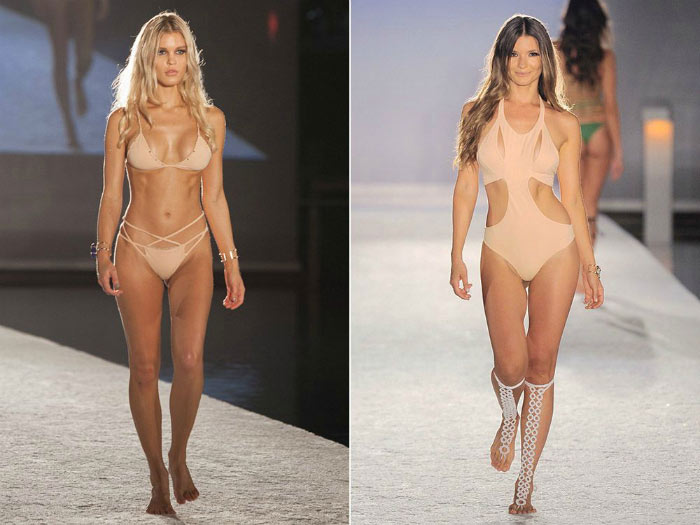 Nude-colored swimwear is as popular as bright colored models. It looks great on a tanned body and creates the illusion of nudity.
14. Lingerie-style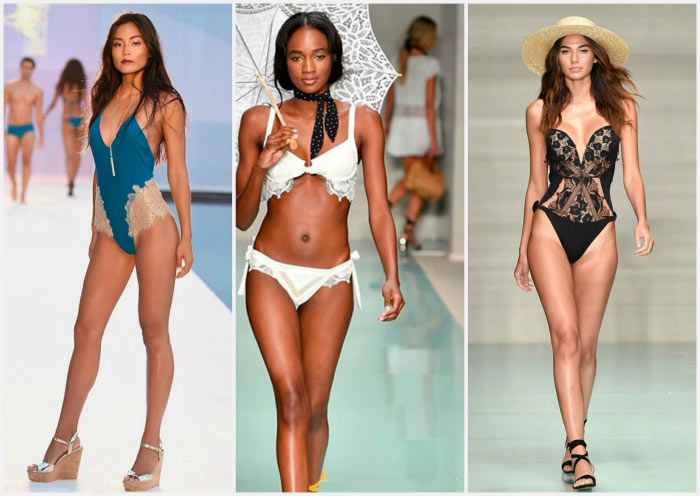 Lingerie trend in clothes continues to gain popularity. This season it has touched upon beach fashion. Therefore, all lovers of beautiful lingerie can go ahead and search for a perfect swimsuit made of silk, satin and chiffon, lavishly decorated with lace inserts and ruffles.
15. Yarn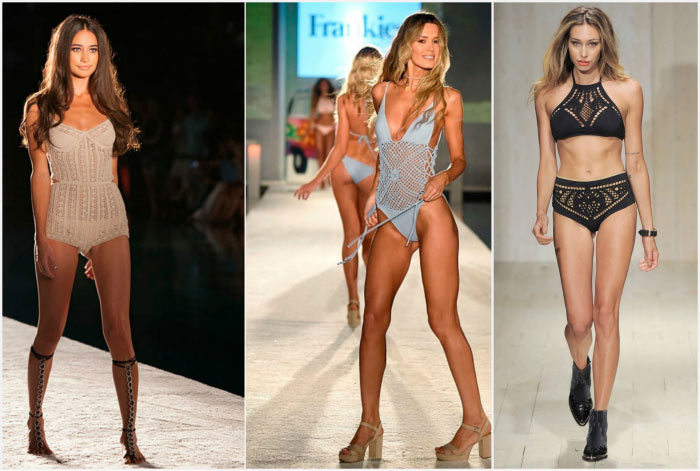 Knitted swimwear is back in trend. So go ahead, take your hooks and needles and start creating your own fashionable masterpiece. Pastel and nude shades with alluring cutouts, intricate patterns and tassels of yarn are all the rage.
Beachwear Trends 2017: Video