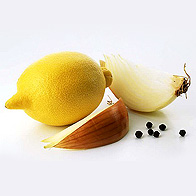 It's winter now, and apart from the beauty outside which is created by the snow-covered landscapes, there are low temperatures, cold wind and some concomitant problems. One of them is familiar to each of us – the common cold. If you have caught a cold, it should be treated. I'd like to share with you a very simple Uruguayan recipe, which is very effective against cold. It contains only two ingredients – onion and lemon. Exactly they should be eaten during this illness to recover.
Onion is also very effective against heart disease, diabetes, osteoporosis and other diseases. It has anti-inflammatory, anticancer, anticholesterol and antioxidant effects. It is rich in so many vitamins and minerals, that I just don't want to bore you with listing all them. Believe me, fresh onion should be eaten. But how, if it is not to everyone's taste? And what can be done with the smell? Look here.
Take one onion and a half lemon. Chop the onion and press the lemon and pour the juice over the chopped onion. Stir it thoroughly. Leave for 30 minutes to let the onion get saturated with the lemon juice and that's it! It you like, you can add some black pepper to it.
Back on the onion odor and taste. Lemon juice neutralizes the odor and the bitter taste of the onion, but the medicinal properties of the onion stay the same. By the way, lemon is very rich in vitamin C and is also good for the cold treatment. This salad can be eaten with meat, fish and so on, so just add it to your dinner, no fear, it will be tasty! Eat the same meals you normally prepare and treat your cold while you are eating.
In case you feel the onion odor, there are ways of getting rid of breath odor.