The highest price paid for a dog so far has risen to $1.5 million (or, actually, 10 million yuan). The dog deemed worthy of this sum is a Red Tibetan Mastiff, almost a year old, named Hong Dong, which means Big Splash in Chinese.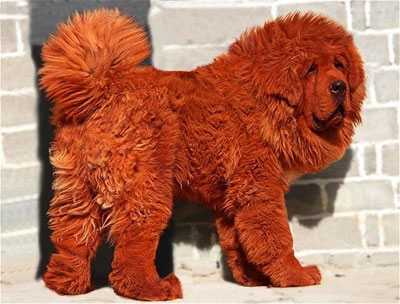 The Red Tibetan Mastiff is considered to be an inherently Chinese breed, which is confirmed by a well-documented history and the population area – it lives almost exclusively in China. In Tibet nowadays a little more than a dozen of these animals can be found.
History has it that a Red Tibetan Mastiff was the dog owned by Lord Buddha and Genghis Khan. Big Splash now belongs to a Chinese coal baron.
Tibetan Mastiffs, besides being arguably the world's oldest pure breed, is certainly the most expensive breed. The previous dog price world record was also set by a Tibetan Mastiff, Yangtze River Number Two, two years ago. It was sold for 4 million yuan.
Source of the image: Buzzfeed.