This is a Sponsored post written by me on behalf of Carmex®. All opinions are 100% mine.
Many of us know and love the popular Carmex® lip balm. You never mix up this yellow jar with another cosmetic product. And now Carmex® has launched two absolutely new products, Carmex® Healing Lotion and Carmex® Healing Cream, which Carmex® was so kind to send us for a try.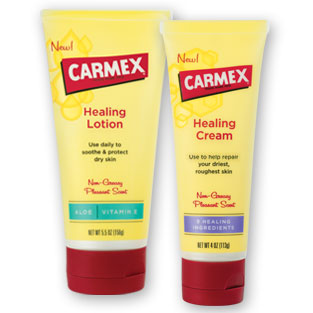 In fall and winter lots of women get dry hand skin after being outside because of the cold wind and low temperatures. What you need to avoid this problem is applying the Carmex® Healing Lotion, it's thin enough to rid you of that greasy feeling you may have after using other creams and at the same time it works perfect on dry skin. That's our own experience of its daily use.
And if you need a longer skin care, for example, for overnight moisture, it's better to use Carmex® Healing Lotion, as it's thicker than the cream and it repairs the damaged skin. We highly recommend it for such dry areas as elbows and knees.And sure you may use both products for other body parts!
We also enjoyed the fresh scent of both the cream and the lotion. The smell of Aloe is always pleasant, and the fact that Aloe works wonders for skin together with Vitamin E, which is also among the ingredients, makes one sure they will have the skin moisturized during the whole winter period.
The new Carmex® packaging is great, too – just squeeze the tube, get as much cream or lotion as you need and apply it. Oh, and you can also use the cream to your hands before going outside to protect your sensitive skin, it absorbs quickly and gives you a silk skin feel.
Each product costs $5.99 and is retailed at Walgreens stores, Walgreens.com, as well as Drugstore.com. The packaging is easy to recognize by its yellow color and Carmex® style.
We're sure you will like the new Carmex® Healing Lotion and Carmex® Healing Cream.