Two years' acquaintance of the eldest Jonas brother with a New Jersey former hairdresser Danielle Deleasa is fast coming to fruition with the wedding rehearsal today and the real thing tomorrow. A hectic and happy time for the Jonases with – hopefully – a lot more happiness to follow!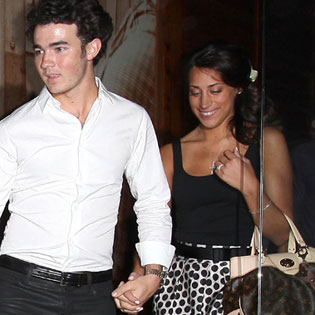 Kevin and Danielle met during their family vacations in the Bahamas in 2007 and travelled a long road towards that very memorable July morning when Kevin literally dropped down out of the blue (having flown over from Vancouver straight from the concert) with a ring and a proposal. (By the way, the cushion-cut diamond ring was of his own design in collaboration with Jacob & Co.)
Now, according to RadarOnline.com, a rehearsal complete with a roller skating rink is in progress, with the grand affair coming on tomorrow – Kevin and his dream girl are going to exchange vows before their families and friends at an exclusive estate on Long Island.
By the way, the crowd of those present will include Demi Lovato, brothers' friend and tour companion of long standing, whose name has been linked with Joe Jonas for some time.
The guests will be treated to a big offer of choicest dishes like sea bass, filet mignon, and a vegetable tart.
The brothers' Twitter page is already eloquent on the main subject of the weekend: "Congrats big brother… Dani welcome to the family, we can't wait to have you join us on the road!"
Source of the image: Celebrity-gossip.net