Naomi Campbell has recently become a vegetarian because she wanted to learn how to eat right. The 43-year-old model has also renounced alcohol and is trying not to eat sweets.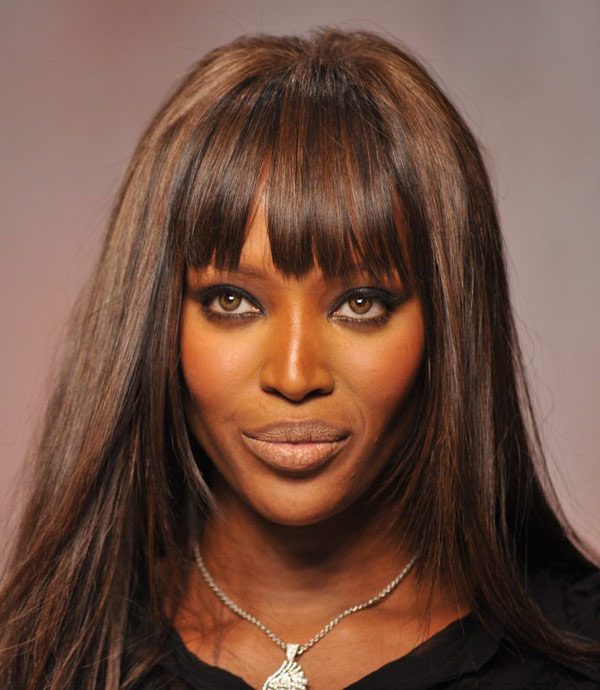 In an interview with the U.S. version of Harper's Bazaar, the Black Panther says she tries to get up at five or six o'clock in the morning when taking part in shooting The Face show in New York. In other cases, she gets up at about nine. The model does not like alarm clocks because of the sudden annoying loud sounds that make her literally bounce. The girl tries to wake up on her own. Even if she still has an alarm clock, she wakes up earlier than the sound.
The first thing Naomi does after waking is drinking hot water with lemon and probiotics. She never drinks coffee as she does not like the smell. Instead, Naomi Campbell loves tea. If she wants, she drinks a cup of green tea in the morning. But most of all, the lady likes herbal teas.
Then she takes a shower and drinks a few more beverages – for immunity and a cocktail with aloe. After that Naomi practices yoga or Pilates and then drinks a large glass of vegetable juice.
In the shower, she only uses baby soap. The model does not like scented shower gels. As for the cream, Biofirm Lift is among her favorites. Naomi always moisturizes the skin of the face and body; she likes whey. However, she believes heavy creams and cosmetics just clog the pores.
What kind of clothes does Naomi prefer?
Naomi dresses quickly. If she needs to go to the TV studio, she puts on AG or Acne jeans, Alaia flats and a cute top. Her favorite brands are Azzedine Alaia, Alexander McQueen, Dolce & Gabbana, Givenchy, Louis Vuitton, Roberto Cavalli, Versace, Zac Posen and Marc Jacobs. At work, she spends the whole day in high-heeled shoes, so she values the days when she can afford wearing comfortable flats. Naomi likes a lot of shoe brands. She can buy a pair of shoes for even ten dollars. If she likes them, she will purchase them. The most important thing is convenience.
When the model works, she almost does not wear jewelry – only a cross, Lorraine Schwartz bracelet and a ring with a yellow sapphire on her left hand.
What does Naomi Campbell eat?
Speaking about her diet, Naomi admits that she has just become a vegetarian, so it is still difficult for her to understand what is available in public places. Therefore, she takes food from home – hazelnuts, figs, apricots, tea bags, and lunch.
She has realized that she does not want to eat pork and chicken. And everything that is considered harmful to health. Naomi says she was surprised at becoming a vegetarian and would have never thought she could do that. Now, she does not know how long her vegetarianism will last, but she feels at ease. She thinks it is enough to clean the intestines at least once, and one will want to preserve this condition and sensation.
Naomi keeps to a juice diet two or three times a week.
What does Naomi eat for lunch?
Salad and vegetables. Or something vegetarian like seitan from wheat flour – it tastes like meat. Sometimes she just drinks juices or smoothies for lunch. She buys it in Juice Crafters or Organic Avenue. During the day, Naomi drinks two or three vegetable juices, as well as chamomile or mint tea.
The model's dinner
Naomi really does not like to eat after eight o'clock. So very often she eats a hearty lunch and misses dinner. If she needs to go out with friends in the evening, of course, she may eat a little. The model does not drink alcohol, but she sometimes yields to the temptation to eat a dessert. She admits that once she ate a cotton candy and then could not sleep: her body is not used to sugar. However, Naomi agrees when people say that sugar is a drug.
Before going to sleep she prays and falls asleep in five minutes.
What are your secrets of beauty and health?