There was a time in the past when she was virtually starving herself to get into the size 0 frame in order to keep her job in the fashion industry. (The majority of runway samples run from size 0 to size 2.) She ended up with a serious eating disorder that all but ruined her health. Having eventually quit torturing herself, Crystal Renn achieved even more spectacular success as a model – being a nice and ample 12 size!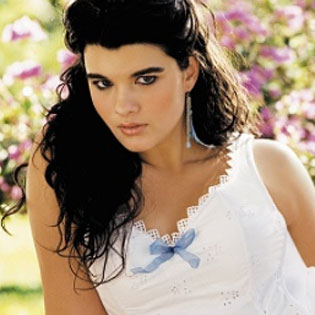 Justly proud of herself, Renn is ready to share her secrets, and in her ABC's Nightline interview she was only too glad to air her views on how upcoming models should treat their bodies, and even how the fashion business should be run.
"I was obsessed with numbers and percentages – how many minutes have I been on the treadmill, how many calories have I consumed today?" That was Renn dwelling on her past and coming up with her conclusion: "When you start obsessing about numbers you get nowhere."
"Is it Okay to be Fat?" was the topic, and Renn says definitely not when it comes to the fashion business. "Fat people are absolutely discriminated against," she shares, speaking from her own experience. It had cost her runways and runways then.
But now she is going strong on the market with a different set of rules, free from weight discrimination, where you can enjoy your healthy appetite and let your body take care of its needs. Inner balance is what it takes, thinks Renn, and then it won't really matter whether you are size 2 or size 18!
Source of the image: Judgmentofparis.com.