For several decades, while the world was drastically changing, Madonna has been reigning supreme as a music stage fixture with other stars rising and falling about her. It has begun to look as if she were irreplaceable as the ultimate pop diva. Can it be that 2012 will mark the beginning of her career's decline? Anyway she scored a palpable disaster with her MDNA concert in Hyde Park with fans walking out on her!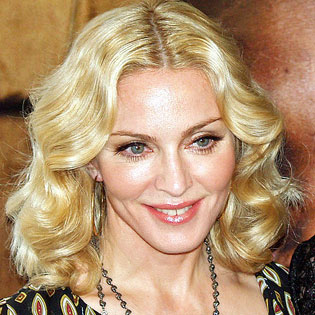 From the outset the event was spoiled by nasty weather, deficient sound quality and the Westminster Council curfew. Later, many fans were disappointed because they had longed for a lot of her old hits and didn't get enough.
Madonna's attempts to spice up the procedure by doing some onstage striptease failed to stir the audience causing caustic comments to the effect that she oughtn't to rely on stripping down during the concert in her 50s.
The 53-year-old pop star regaled the crowd with a view of her bra and fishnet stockings with a clearly visible black thong underneath. Then her picturesque boyfriend Brahim Zaibat, performing as a dancer, helped her fix a corset on as the singer went on singing Like a Virgin which she ended in a statement that she liked "to live dangerously."
Twitter comments on the performance – including the sexy piece – were nothing short of crushing, with Clare Whitaker declaring that "her career is as dead as myspace." A user by name of Courtney called it the worst gig ever, and Dawn Grace mourned that they were served "potty mouth and violent imagery" where they used to enjoy incomparable vibes and excellent music.
Madonna's joke about love for Poland also didn't go down well with reviewers quoting it as one of the duds.
Part of the failure was probably due to the 10.30 curfew that led to an early startoff of the show when it was still light, which took the edge off the stage arrangements. But even before that, it was officially admitted that the concert had not sold out – it being Madonna's first British show in 4 years! But even those who forked out £77 started leaving in groups without waiting for the end almost dead on the curfew.
Barbara Charone, Madonna's spokeswoman, just wasn't to be found to comment on the thinning audience, her colleague saying that she was busy seeing to some other Madonna arrangements.
Still there are die-hard fans who enjoyed every minute of it, media presenter Toby Anstis for one, who gave it the highest mark in his Twitter message, saying the show was "mesmerizing from start to finish."
There were quite a few of famous recording artists at the concert, including Kylie Minogue, Adam Clayton from U2, George Michael, as well as models Kate Moss and Naomi Campbell.
Madonna did renderings of Papa Don't Preach, Vogue, and Hung Up, interspersed with her new songs from the latest album MDNA; performing at the concert was her son Rocco, 11, debuting as dancer.
A highlight of the event was Madonna's beck at Lady Gaga as she inserted the latter's hit Born This Way in her Express Yourself.