Lindsay Lohan 's hearing in Los Angeles on Wednesday was certainly a quaint affair – if not in terms of legal procedure, undoubtedly in a highly theatrical get-up of the lady in the dock.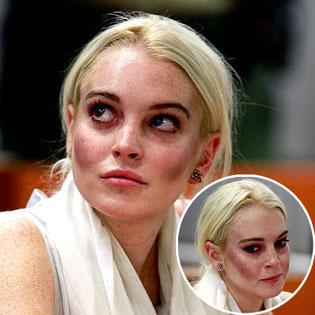 Lohan's image may have been just resplendent in a carefully chosen place – a light blue dress above gold platforms with bared toes and impressive heels; her cheeks blazing with a rough-looking streak of brown blush and heavily done eyes. Quite formal for one often seen in super tight dresses or skimpy shorts and strap-on sandals.
As to the results of the hearing, Us Weekly reports that the 25-year-old actress's probation was revoked. Although Lohan's attorney Shawn Chapman Holley offered an argument that Lohan got delayed with the completion of her community service due to work commitments that took her out of town, Judge Stephanie Sautner overruled it.
Sautner ended the hearing with the injunction that the actress must go through 16 hours social work at County Morgue prior to the next hearing on November 2. Then Lohan was shown out of the courtroom in handcuffs – to be released later upon paying $100,000 bond.
Source of the image: Styleite.