What Jessica Alba proposes to do in order to regain her shapely figure as soon as possible after her second baby's birth amounts practically to starving. But she is ready to go through with it no matter what.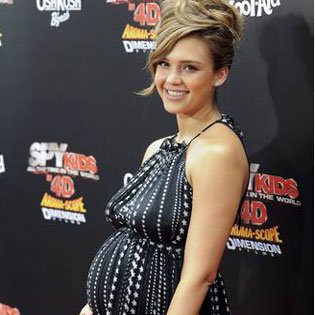 Sharing with Lucky for its September issue the Spy Kids 4 star said she – not being gifted with portion controlling abilities – has arranged for delivery of 1,200 calorie meals (with great amounts of water). Considering that she works out, it sounds like starving. "It sucks," says the actress.
Alba usually works out every day and was heard to say that it was good "for my mental state" even in short spells, but, unlike other Hollywood high-profile personalities, she is not so much into working out. In gym she enjoys to take her mind away from the toil with the help of TV, magazines, iPod. Friends are always welcome in gym to have someone to chatter with. All that makes physical strain more bearable for the expectant mother who does not like working out.
Alba, who gave birth to her first daughter in 2008, keeps her career on top of her priorities list. She is eager to be back on the shooting set in the nearest time possible. She said she had shown "sheer will and determination" to get where she is now and she means to get on with her work to prove that she is here to stay.
Source of the image: Allvoices.