Happiness rode galore for West Coast Choppers CEO and motorcycle mogul Jesse James and a great friend of his Kat Von D, the famous tattoo artist, last year. There is even more in store for them this year, for the two are getting married!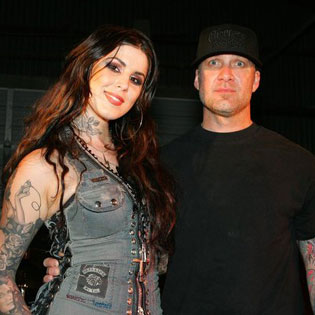 When James's rather shaky marriage to the Blind Side star Sandra Bullock disintegrated (they have been divorced since last June), James, 41, and Von D, 28, started seeing each other and hit it off at once. Through January they exchanged affectionate Twitter messages, with James saying he resumed tweeting solely with the purpose of expressing his love for Von D for the world to know. The tattoo lady responded in kind, thanking him for his support and being her best friend in everything.
In an exclusive interview to PEOPLE the motorcycle manufacturer shared that in spite of the media scandals involving him and no matter what it might have looked like, he considered 2010 to be the best year in his life, made so by winning the affection of Kat Von D. He called her "an amazing woman," "kind and loving and committed" who kept believing in him while the whole world looked hostile. James claimed to have been honored by her agreeing to marry him.
On her part, the LA Ink star assured PEOPLE that James is the only man for her.
Von D added that for the present she was not planning to move to live with her husband-to-be. In all probability the couple will be keeping two homes, in Austin, Texas, and in Los Angeles.
Source of the image: Posh24.