Cher is still unsure about her pronouns when she is speaking to/about Chaz, her daughter by Sonny Bono. At least, Chaz was daughter until last year, when she decided to change her sex.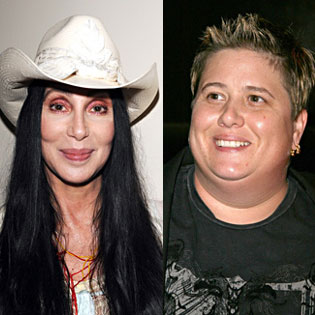 Back then Cher said she supported her daughter's decision which she referred to as "a difficult journey".
Now Chaz is a 41-year-old male, and his illustrious mother is ready to discuss the subject at a greater length at the interview for the December issue of Vanity Fair.
Much as she supports Chaz, she is unable to take in the full impact of the changes, mixing up her pronouns and calling him "her" now and again.
And no, she can't see herself in such a situation. "If I woke up tomorrow in a guy's body, I would just kick and scream and cry and f—— rob a bank," as she put it to Vanity Fair editor Krista Smith. While Chaz took to it just fine, and mother thinks him "a smart boy", she wouldn't agree to be anything else but a woman.
And, of course, being a celeb parent piles on extra difficulties, with children having to deal with past issues and living in the shadow of a famous mom. As Chaz put it to her when she was little, "I'm so pissed off, Mom. You can never not be Cher — we can never just do something."
The next generation has to pay, the singer continues, and whatever you do to smooth things over, it's never quite enough… Although, his mother says, Chaz has gotten over most of it, while her other son, 34-year-old Elijah , born with keyboardist Gregg Allman, still has issues to sort out. But love is there, she adds.
When asked about her comeback part in soon-to-be-on Burlesque, the 64-year-old singer confessed of a mixed feeling of admiration and devastation at watching Meryl Streep, whose excellent performance she had to try hard to outdo.
Feeling age creeping upon her relentlessly, Cher believes in spurring her family on, shouting "Work out! Old age is coming!"
Source of the image: Nydailynews.