Opposites attract – or so the cliche goes. These iconic couples would definitely suggest otherwise, however, as they are known for sharing not just their affections but their professions. Perhaps a little career rivalry adds chemistry of their relationship? Either way, there's something very sweet about the couples that go together like two peas in a pod…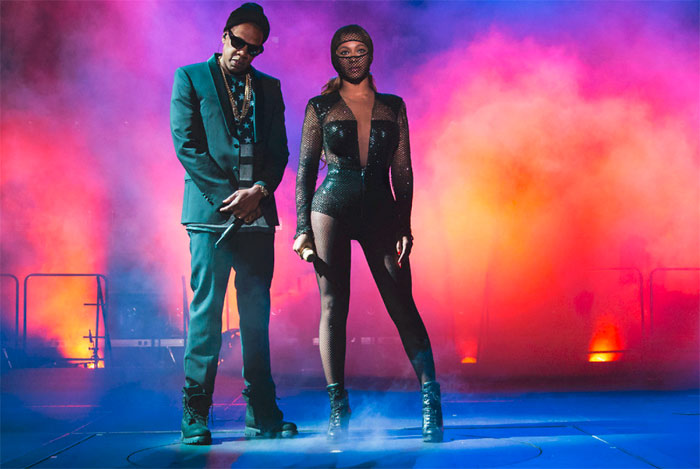 Angelina Jolie and Brad Pitt
Brangelina might well be the most famous celebrity couple of all time, with a relationship that has been the topic of countless tabloid features. Their good looks, star power, charitable endeavours and jaw-dropping wealth have been the subject of much admiration; they're the couple which couples aspire to be like. Jolie and Pitt famously became an item after working together in 'Mr & Mrs Smith' – a scandalous matter back then, as Brad was married to Friends-star Jennifer Aniston at the time. Most recently, Pitt and Jolie co-starred in 'By the Sea', a movie written by Jolie, which portrays a fictional couple's struggle to keep their relationship strong. The movie wasn't a hit amongst audiences – a fact unlikely to trouble the couple, considering their combined net worth of $385 million.
Beyonce and Jay Z
Yet another celebrity power couple that the media can't get enough of. The hip hop and RnB stars met when collaborating on the mega hit 'Crazy in Love', marrying five years later in 2008. They have since become two of the highest earning artists of all time. They also seem to have taken a page out of Brangelina's book and recently collaborated together on a secret album – if rumours are to be believed. Politically outspoken, fashionable and friends with the Obamas – it's no wonder Queen Bey and Jay Z are the music industry's hottest couple right now.
Shelden Williams and Candace Parker
An athlete's passion for their sport can consume their life; it's not surprising they seek out a partner who can appreciate the sheer dedication it takes to compete amongst the best. Williams and Parker are both basketball stars with careers that has seen them win awards, make numerous TV guest appearances and – in the case of Parker – even set some world records. The basketball players have been parents to a daughter since 2009 – a little girl we can only assume will grow up to be very tall…
Jennifer Tilly and Phil Laak
As one of professional poker's most stunning players, Jennifer Tilly is the bigger name here. Whilst she is perhaps better known for her acting career, Tilly has become increasingly famed for her intimidating style at the card table – the place where she met her husband and fellow poker pro – Phil Laak. Besides his $3 million in tournament winnings, Laak is also famous for breaking the world record of longest time spent playing poker in one single session (115 hours, in case you were wondering). Tilly, who has been dating Laak since 2004, has amassed almost $1 million in poker earnings and become an icon amongst people who play online poker. We can't say for sure how these two like to spend their free time, but we have a feeling they frequent the casino together…
F Scott Fitzgerald and Zelda Sayre
This historical couple are one of the most widely known literary pairs. Perhaps their glamorous relationship is so timelessly inspiring because Fitzgerald's fiction has enjoyed enduring popularity to this day. When an adaption of The Great Gatsby was released in 2013, we were treated once again to the author's alluring, but ultimately dark, image of Jazz Age America – an image which his wife, Zelda, helped shape. Fitzgerald even referred to her as the "first American Flapper girl", and used to read her diary for inspiration. The two romantic intellectuals will forever represent the hedonism of the roaring 20s, though it is only in recent years that Zelda Sayre has come to be appreciated as a writer on par with Fitzgerald.
Bill Clinton and Hillary Rodham
Despite having suffered one of the biggest infidelity scandals of all time, Bill and Hillary seem to be going strong. The Democrats met at Yale University in the 1970s. By the time Bill Clinton became president in 1991, the pair had an eleven year old daughter, Chelsea. Their daughter has followed in their footsteps, becoming involved in politics and acting as a reporter for several major news outlets and her parent's non-profit corporation, Clinton Foundation. Hillary stands in line to become the first ever female president, which would make Bill the first ever "First Man". Talk about role-reversal…
Sara Blomqvist and Jeremy Young
This couple is practically guaranteeing their future children some seriously good looks. In this case, the face of Dolce and Gabbana meets the face of Burberry. Swedish supermodel Sara Blomqvist and British model Jeremy Young tied the knot in 2014, making them one of many model couples who found love on the catwalk. Blomqvist famously wore a Valentino gown at their wedding, whilst the guest list featured some big names from the fashion industry. The models recently bought a family-size townhouse in England, with the obvious implication of plans for parenthood.
Nick Offerman and Megan Mullally
We can only imagine the daily hilarity that must ensue between these two comedy stars. Part of what makes Offerman's and Mullally's marriage so adorable is the fact that they play vindictive exes in the hit comedy Parks and Rec. Their perfect on-screen chemistry is a pure testament to their comedic compatibility.