Amsterdam is a city surrounded by water, and this has given way to the possibility of buying an actual houseboat so that you can live on the water. This is a fantastic way to experience one of the best things about this location every single day.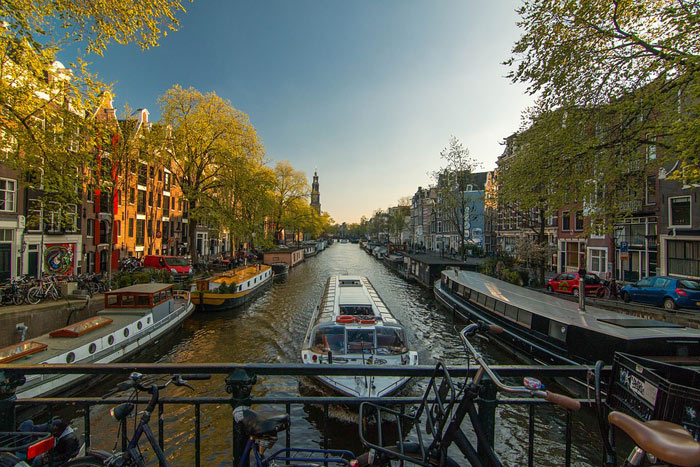 Buying real estate in Amsterdam is already tricky enough, but buying a houseboat can be an entirely different animal altogether. You basically need a lot of information on the logistics, legalities, and viability of actually doing something like that. Fortunately, this information is something that's easy enough obtained, which is great. After all, the city looks best from the water
Now, it's worth pointing out that a houseboat can mean different things to different people. However, the most important aspects to remember is that it's on the water and can actually be used to live in.
What Is A Houseboat?
Although it can take many forms, a houseboat is actually really straightforward. It's simply a floating vessel with an enclosed structure that people can live in. It can contain anything from simple furnishings like a bed or a couch, up to full-blown, complete sets of amenities such as showers and a bar.
Naturally, the costs of such vessels will depend on the kinds of amenities that are available, so that's definitely something that's worth keeping in mind. For anyone who simply wants to live on the water, though, the rates are often standardized.
What Is The Benefit Of A Houseboat?
The biggest benefit of having a houseboat is naturally the mobility that it offers. Although they aren't exactly designed to be seafaring vessels, they can still cover quite a large area of water.
There's also the fact that living on the water is simply amazing. The sights are always such an event, with mornings feeling like absolutely magical occurrences. Somehow, the air is clearer as well, which is always a treat. The city looks incredible at night, as well, so there are plenty of opportunities to have romantic moments.
The Prospect Of Buying A Houseboat
While buying a houseboat might seem complicated, it's actually not. The process itself is relatively similar to that of buying a house or an apartment. You can get financing for it by having a bank pre-approve your loan, though, it might prove tougher than you might expect. Approval can actually be a bit tough when buying a houseboat compared to buying anything else.
How Is Buying A Houseboat Different?
Aside from the fact that buying a houseboat might come with a more difficult approval rate in terms of financing, there's also the matter of what you will actually be paying for. More than simply the boat itself, you will actually be paying for the mooring privileges. This has been the case for 30 years.
You can't simply buy a boat elsewhere and park it in an empty spot either. You actually need to buy a boat that is already docked and that's the one that you'll need to live in. In this way, buying a houseboat is similar to buying a house.
The Legalities Of Buying A Houseboat
The matter of mooring has already been discussed, so it's not really surprising to know that if you don't have the proper documentation in having a houseboat, your vessel will be towed. Sales of a houseboat are also legally required to go through a "notaris," which is a lawyer who handles contracts.