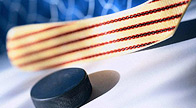 It is not only performing physical exercises that does us good, but also watching them. This fact was discovered by physiologists at the University of Chicago. They concluded that watching somebody training helps sharpen the brain.
In their study, scientists compared hockey players, hockey fans and people who are not enthusiastic about hockey. They found that discussing hockey boosted the activity of brain zones responsible for planning and physical actions in hockey players and fans (compared to hockey-indifferent people).
The researches say this observation is unique. New findings suggest that our brain is able to give orders of physical activity to the body even if we aren't actually exercising. It's just enough to watch a game on TV or at the stadium.
Physiologists claim that in future these findings could bring about some changes in the training programs for physically active professions. It has to do not only with athletes, but also with militaries, bodyguards, fire fighters and the others.