As a rule one doesn't expect to see a net floating a few feet above the water. Neither expects one to see people moving and jumping around it on the water surface. But that's exactly how Grand Slam professionals are playing tennis nowadays.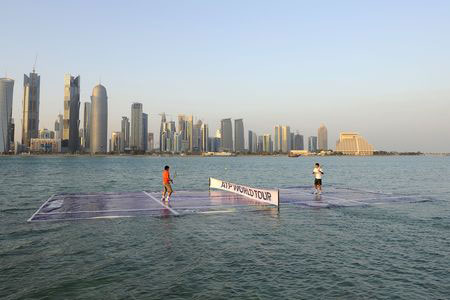 Well, not all of them venture to go to such lengths. But Rafael Nadal and Roger Federer were the brave hearts that played out an exhibition match promoting the ATP World Tour on a very special court laid out on the waters of Doha Bay, Qatar.
Both athletes can boast a very variegated experience, but this match was something to remember, as Nadal pointed out.
Federer, who said he was pleased to participate in promoting the upcoming tour together with Rafael, referred to the match as exciting and unnerving in some measure. "It was good fun," he shared, for it was difficult to tell how it would turn out. But, no matter what the score was, good time was had by all.
Source of the image: Tennisidentity.