Sports fads come and go (you hardly see anyone hacky sacking anymore!), but every once and a while a new sport comes along that endures. There wouldn't be skateboard culture without some enterprising California surfers adding wheels to their surfboards, and there would be no Baseball World Series without some quick thinking New Yorkers adapting the British pastime of "rounders " back in the early 1800s. If a new sport is captivating enough, simple enough to understand and easy enough to try, then there is no limit to how popular it can get.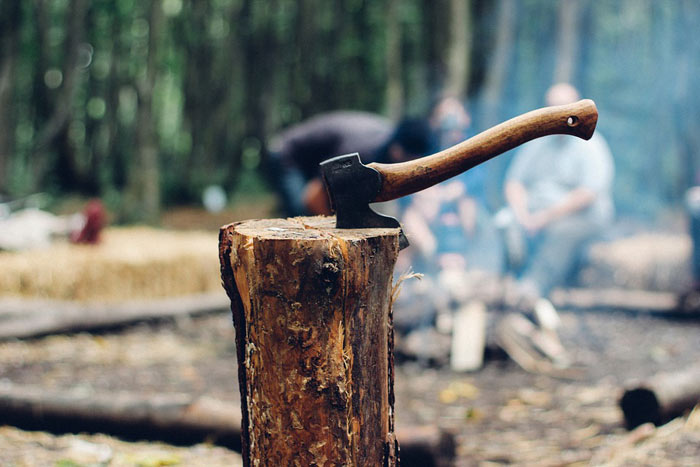 That might be what the world is seeing right now with axe throwing. No, the game hasn't reached the level of the fandom yet of either baseball or skateboarding, but it's certainly growing in popularity. And with an international tournament now established, as well as a standardized system of records and stats, the sport is also quickly legitimizing. Recently, even celebrities and athletes from other sports have gotten in on the game – Shaquille O'Neal recently beat country music start Thomas Rhett at a friendly game of axe throwing!
With axe throwing poised to be the next big thing in sports, this article will take a closer look at the game, including how to do it, where to do it, and what's at stake if you make it big in the sport.
How It Works
As the name suggests, this new sport involves throwing axes at a target, oftentimes a painted wood plank. In a standard match, competitors go axe to axe with one another in three rounds, with each round consisting of five axe throws. A competitor wins the match when they win two out of the three rounds. The playoffs are a different beast: a double elimination tournament amid sixteen competitors with a complicated system of seeds and brackets.
As for how to actually throw the axe, it is both easy to pick up and difficult to master. To get you started, here are a few tips on axe throwing that you can use to practice at home (without the axe, of course).
Put the opposite foot from your dominant hand forward
Use your dominant hand to grip the bottom of the axe
If using two hands (some players do, some don't), hug your non-dominant hand around your dominant hand
Bring your arm(s) back over your head, as though doing a soccer throw-in
With eyes on the target, bring the axe forward and release at face level
Watch your axe fly through the air and (hopefully) smash that bullseye.
Where To Throw
The most popular axe throwing league, and the one that started it all, is called BATL – short for the Backyard Axe Throwing League. It started as a camping trip pastime back in 2006 and has since spread across North American, with locations in many of the major (and not so major) North American cities. To try your hand at axe throwing, you can sign up for a league or, perhaps the more popular option, get some friends together and book a lane to try it out.
Rates are reasonable, and when you book a lane you get an axe throwing tutorial from an expert. A lot of people try the sport for the first time at a party – whether a birthday party, bachelor(ette) party or corporate event. Be warned, however: it can be addictive.
National Competition
The National Axe Throwing Competition (NATC) held by the National Axe Throwing Federation (NATF – acronyms abound in this new sport!) is the annual culmination of the sport, with over 1000 competitors facing off in February for a shot at the Wilson Cup. Straun Riley, who won the 2017-2018 Wilson Cup, walked away with a purse of $7,500 as well, not too shabby for a new sport.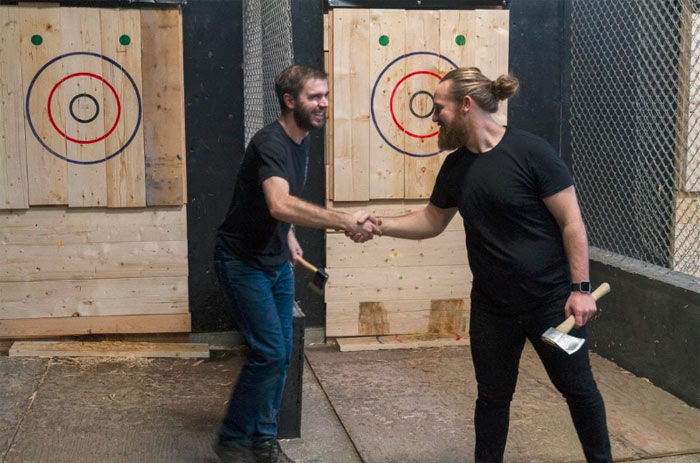 If you are just starting out in the game, you probably have a ways to go before you reach that level, but thankfully the road to mastery is a fun one. What might start as just a fun bachelorette party with some axe throwing could spark an interest in you, and before you know it you could be one of the early champions of this growing sport.
It remains to be seen whether axe throwing will reach the heights of baseball or have the cultural impact of skateboarding, but it certainly seems to be gaining popularity. With each passing year, new players flock to the sport, moving their way up in the ranks and spreading the word about axe throwing. If you haven't tried it yet, you really should.