Computers, cell phones, home accessories have been overwhelmed by fashion since almost time immemorial, and if there was a gadget that managed to stay away from the onrush of pink-dominated designs it was maybe PSPs. So now Sony, cooperating with designer Jill Stuart, broke fresh grounds by launching the "Jill Stuart Sweet Limited Package", a special edition console done in pink. It has already been on the Japanese markets for a week and retails for $230.
The PlayStation Portable in this limited edition set is of the softest pastel hues and goes with a pink cleaning cloth and a pouch whose strap is beautifully done in beaded pearls. There is also a pink case carrying a 4GB Memory Stick Pro Duo.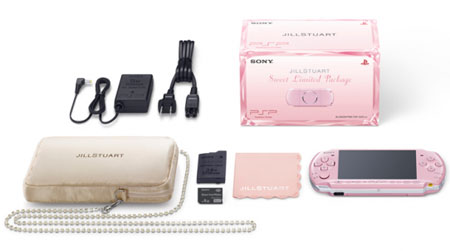 Source of the image: Crunchgear.com.