The collection of the world's most expensive gadgets, accessories, devices and what-nots created by UK-based Stuart Hughes (whose ornamentation abilities go far beyond an ordinary man's purse) has been augmented by a stunningly beautiful MacBook laptop. Before you go to Hughes's official site to check it out, here are a few details that may interest you.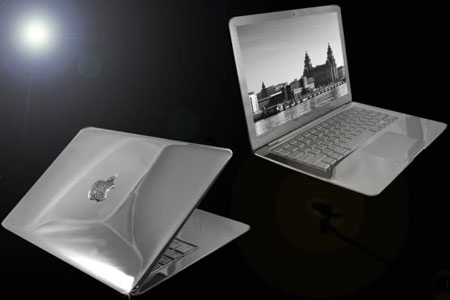 The production of the MacBook Air Supreme Ice Edition, as it is called, used up an impressive amount of solid platinum (about 2,500 grams for the front) and over 50 22.5ct IF Flawless diamonds (shaping the Apple logo). Polished aluminum finish adds the Air Supreme a quiet elegance and a feeling of lightness.
Naturally it is a limited edition, according to the great Stuart Hughes himself there are only 10 laptops to go round, each bearing a price tag of £139,995 (appr. $208,999).
Source of the image: Stuarthughes.com.