Probably the only thing a smartphone lacks is a fixed and handy position on your person. Is rummaging for your handset or mislaying it a common thing with you? Then you can consider getting a smartwatch that will stay in place, function as a stylish watch and as many other gadgets as well. The latest and assumedly the most sophisticated of these is the device called I'm Watch, designed and put together in Italy by designers Manuel Zanella and Massimiliano Bertolini. It's a perfect wrist multifunction watch containing a smartphone OS and SDK that provides the whole bundle of modern-day features.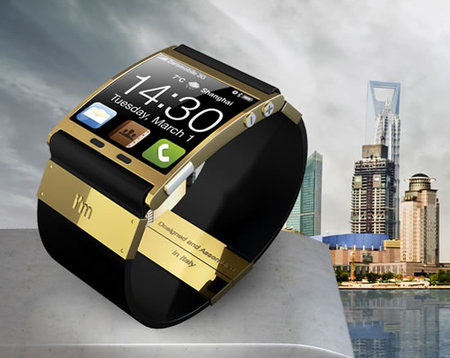 The I'm Watch can be connected to almost all of your customary android gadgets and handsets (work is going on to have it connected to all of them including BlackBerry) and thereupon lets you use all their applications in the whole range – from answering incoming calls and controlling email and text messages to socializing via Facebook and Twitter.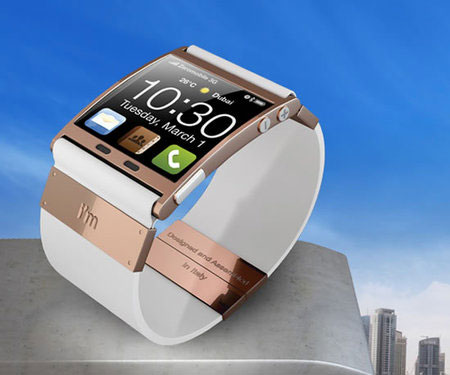 Connection can be established via WiFi or Bluetooth, whatever is more convenient at the moment. The operational facilities are 4GB of internal memory and 64MB RAM; the smartwatch is powered by Li-Po 600 mAh battery. The display is a 1.54" color affair with the resolution of 240 x 240.
As for the design, you have a choice of going luxury and going color. The first of these, I'm Jewel, is manufactured from gold, titanium and other precious materials, and decorated with jewels. Once again you have several versions to choose priced from $845 to $16,930. The more affordable version is I'm Color, worth $352, and offering variants of white, black, blue, green, pink, red and yellow.
Pre-orders require 20% advance payment, and you can get your smartwatch starting October.
Source of the image: Newlaunches.