At times it seems as though they're making all the gadgets smaller so as to enable us to stuff all our accessories in one breast pocket. That was definitely the idea behind Aiptek's creation of PenCam HD Trio.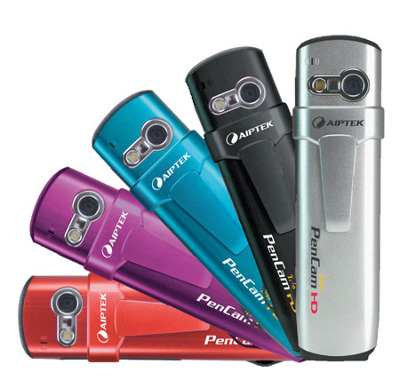 The new PenCam measures 130 x 35 x 19mm with an OLED screen which also breaks records at 1.1 inches that bodes nothing good to our eyes. Yet if you screw up your eyes you will enjoy a high definition video (1280x720p) with the ability to capture up to 30 fps.
The 4GB memory capacity offers you enough space for your video collections, and there will be no problem with cooperating with Windows or uploading clips to YouTube. Besides, PenCam Trio HD features five megapixel lens (promising you excellent quality stills) and a digital voice recorder.
The prices aren't out yet, but as for the colors, your choice is among black, purple, red and blue.
Source of the image: popgadget.net.