You may have expected this figure to be higher or lower, but here it goes… And it's a moot point how much of this is really pleasure and how much – work!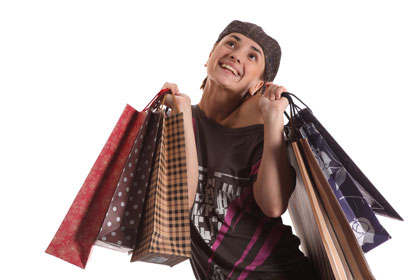 Online market research firm OnePoll.com is surely inclined towards the latter. Their spokesperson commented: "Many men seem to think women only shop when they are buying clothes for themselves. But they quite often shop for the entire family and that can be incredibly hard work."
Jokes aside, the yearly shopping routine of women makes quite a busy time. Year after year women embark on approximately 301 shopping trips that devour 399 hours and 46 minutes.
A recent study of 2,000 women shows that most often women buy – naturally – food, making on the average 84 trips and spending almost 100 hours each year.
Bookshops come second in the list, being visited 57 times and taking over 31 hours.
Too sad that the third place belongs to window shopping, with 51 trips a year and 48 hours and 51 minutes spent by the windows.
Clothes and toiletries follow, and though they take 30 and 27 trips respectively, the time spent on buying clothes running over 100 hours and making an absolute shopping winner. Well, women ought to look good, after all!
Buying gifts, accessories and shoes requires fewer trips, although choosing shoes expectedly consumes a lot of time – 40 hours 30 minutes.
In 63 years that adds up to 25,184 hours and 53 minutes devoted solely to shopping.
Source of the image: photl.com.