The cover of the "W" magazine depicts the new Tom Cruise. If earlier the girls around the world were lovesick because of his masculinity and beauty, the image of a bully and a guyliner may upset many of them.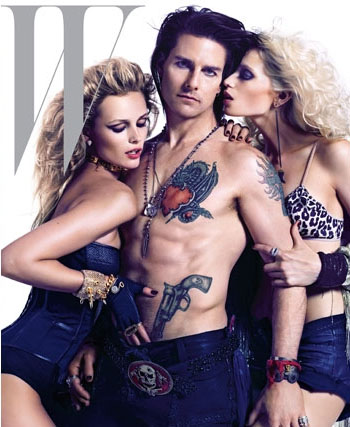 But do not rush to cross Cruise out from your list of favorites. The reason for the new image is not radical changes in marital status or sexual preference. Tom Cruise is just promoting his new role.
Cruise has a role in a musical titled "Rock of Ages", where the actor plays a musician with an international reputation – Jon Bon Jovi. It explains the made-up eyes and tattoos on the entire body.
Apart from Cruise, Malin Akerman, Catherine Zeta-Jones, Alec Baldwin, Russell Brand and Julianne Hough starred in the movie. Do you like the rock of the 80s? Then wait for the premiere. You can find the movie trailer below.
As for the glossy cover, we were able to identify the names of the models in whose arms Tom Cruise is posing – Edita Vilkeviciute and Abbey Lee.