The whole world watched with amusement as Kseniya Sukhinova (Russia) was awarded with the title Miss World 2008 at the Sandton Convention Centre, Johannesburg, the City of Gold. The stunning crown perfectly matched gorgeous Kseniya.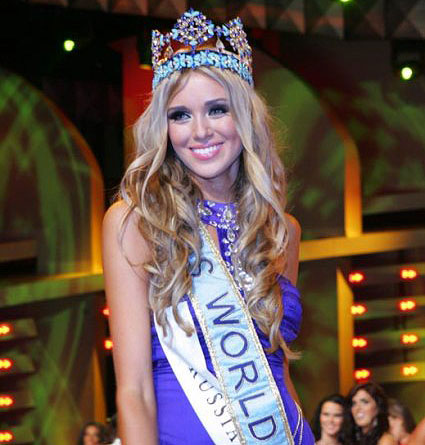 The year 2008 was very fruitful for the Miss World Festival as a new record was set in the number of contestants with 109 talented beauties competing in it. The month they spent in South Africa will surely remain in their hearts as unforgettable memory for the rest of their lives. Yet, no matter how stunning the contestants were, the international panel of judges had to select one name and pass it to Julia Morley, the Chairman of the Miss World Organization, to be announced as the winner.
Sukhinova 's eyes shone brighter than the sun when she was crowned by Zilin Zhang, Miss World 2007. The TV audience of over 2 billion people around the world watched this glorious moment.
The first runner-up was Parvathay Omanakuttan from India, the second runner-up was Gabrielle Walcott from Trinidad and Tobago, while the other two finalists were from South Africa and Angola.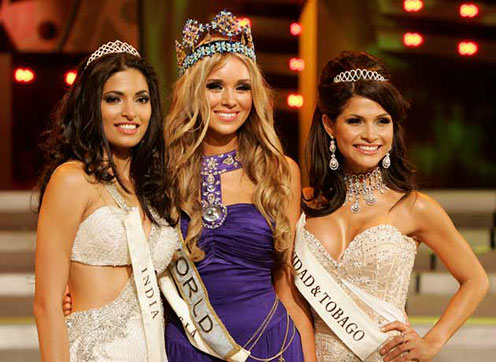 Angela Chow, a top Chinese TV presenter, hosted the festival for the sixth time in her life. In addition, Tumisho Masha, a South African celebrity, made his debut in the Miss World Final by co-hosting the show.
Outstanding lighting, beautiful stage, amazing music featuring world-known performers such as the band McFly with their hits 'Smile' and 'Lies', as well as the UK's remarkable Alesha Dixon with her recent single "The Boy Does Nothing" – overall the 58th Miss World Final was a sure success and an unforgettable event.
Photos of Kseniya Sukhinova, Parvathay Omanakuttan and Gabrielle Walcott: missworld.com, realbollywood.com.