Makeup is a real time machine. Any professional makeup artist will tell you that properly applied makeup will help you look significantly younger. But not all realize that the influence of makeup may be directly the opposite. Geniusbeauty.com informs what makeup techniques can help you look younger, and which of them will make you look older.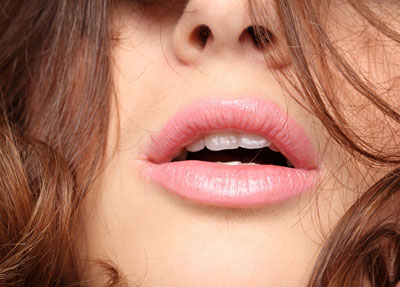 Rouge
Dark Rouge Shades on Cheek Bones Make Older
Pronounced cheek bones make the face more refined, but, alas, they make it look older. Think of Marlene Dietrich. Even in her youth photographs she looked very grown up. If you need to look older for some reason, darken the cheek bone hollows with a dull brownish rouge, as Victoria Beckham does.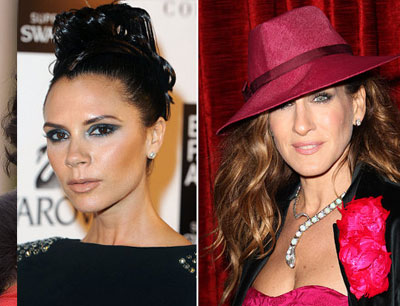 Fresh Rouge Shade Applied on Cheek Apples Makes Appear Younger
A young face always shines with a bright blush. Choose refreshing rouge shades (pink, peach). The star makeup artist Sue Devitt advises to apply rouge high onto the cheek apples and then rub a drop of lip gloss over the top of it. This technique is often used by Sarah Jessica Parker.
Foundation
Thick Foundation Cream Layer Makes You Look Older
Hollywood makeup artists are sure that applying thick layers of foundation and masking makeup means granting yourself with some twenty more years of age. Cosmetics is rammed into wrinkles and emphasizes them strongly. It turns the face into a lifeless mask, as was the case with Kim Kardashian.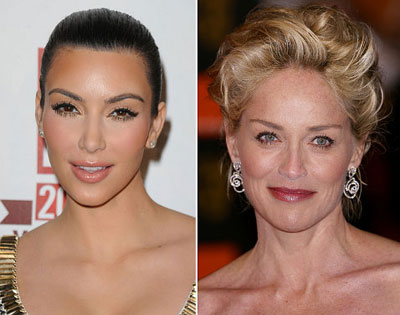 Light Foundation Makes Women Look Younger
If you want to look young, discard thick foundations in favor of light hydrating fluids. Apply foundation with your fingers, but if you have a very dry skin, mix the foundation with a moisturizer before using it, as Sharon Stone does.
Lipstick and Eyeshadow Texture
Matte Lipstick and Eyeshadow Make Women "Older"
The principle of dry matte skin of the face works for eye makeup and lips: matte texture and darker shades add more age and underline wrinkles depriving the face of volume, as it happened with Lily Allen. Do not go to extremes and do not waste money on glittering makeup – intense shine will also emphasize the unevenness of the skin.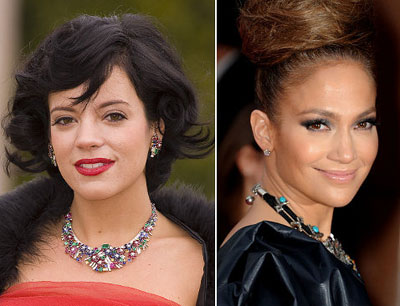 Moist Shine Effect Lipstick and Eyeshadow for a Younger Look
Your choice is light satin shine of the natural color, which slightly diffuses the light, softening wrinkles. Satin shades will give some youthful glow to your look, and thanks to the moist shine effect lipstick your lips will look fresher and bigger, as if those of Jennifer Lopez.
Eyeliner
Black Soft Eyeliner Makes "Older"
At the time of incredible popularity of smokey-eyes, everyone adores intense lining the inner corner of the eyelid with a black pencil. This technique certainly looks impressive, but it makes you much older and emphasizes eye redness, as it did with Milla Jovovich.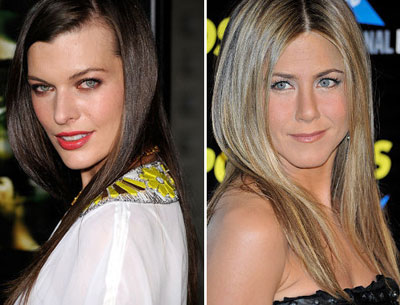 Light Soft Eyeliner for Younger Eyes
Shining kajal pencil, in contrast, makes the eyes whiter, underlines the eye and enhances its brightness. Here we can follow the example of Jennifer Aniston.
Lip Gloss
Lip Gloss Applied on Entire Lips for an Older Effect
Young girls can apply as much lip gloss as necessary on their lips, but sometimes it does not seem quite careful – the lip gloss can appear at the corners of the mouth or spread beyond the lip contours, as in the case with Miley Cyrus. Older women, who have lip gloss on the entire surface of their lips, will only have their wrinkles around the mouth emphasized.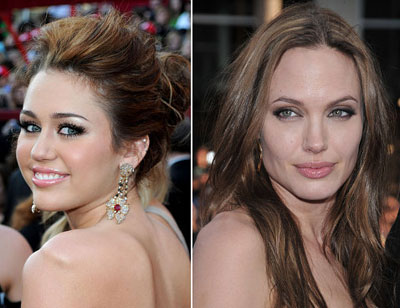 Lip Gloss in the Middle of the Lower Lip for a Fresh Look
Lip gloss can be applied only in the middle of the lower lip, which is not only enough to make the lips look fresher, but will also help to create an optical effect of full lips. Angelina Jolie always uses this technique.
Makeup Do's and Don'ts
Makeup Don'ts: These Will Make You Appear Older
a brown lipstick
a pale chalky color of the face
a black eyeliner
blue eye shadows
Makeup Tricks for a Younger Look
light shadows in the inner corners of your eyes and under the eyebrows
pink, peach and coral shades of pink rouge
golden bronzer, applied on the jawline and the neck
well curled up eyelashes