Nail industry never ceases to delight us with new shades, unexpected combinations and special effects. Today we are sharing nail images, which are ideal for beach, office, and parties.
Beach Star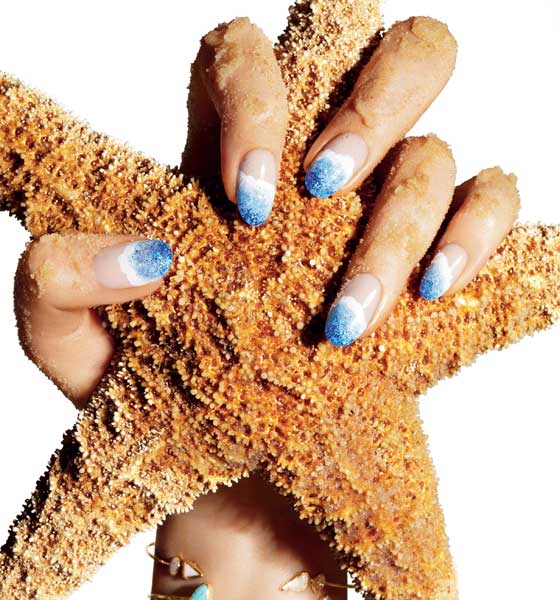 Manicurist: Kimmie Kyees
Celebrity clients: Katy Perry, Rihanna, Kesha.
Kyees is sure that marine-style manicure will instantly tune you to a wave of relaxation and holiday mood.
How to Create the Beach Manicure?
Apply a light base (beige fits best). 1/3 from the base of the nail, apply white nail polish in the form of a wave. You may not try too hard, unevenness just adds the desired effect. Stepping back a bit from the white line, add a layer of blue shimmering nail polish, repeating the same wave effect. And finally, on the very tip of the nail, apply a dark blue pearl and stretch out a little shade, creating a smooth transition between colors.
Manicure for a Night Out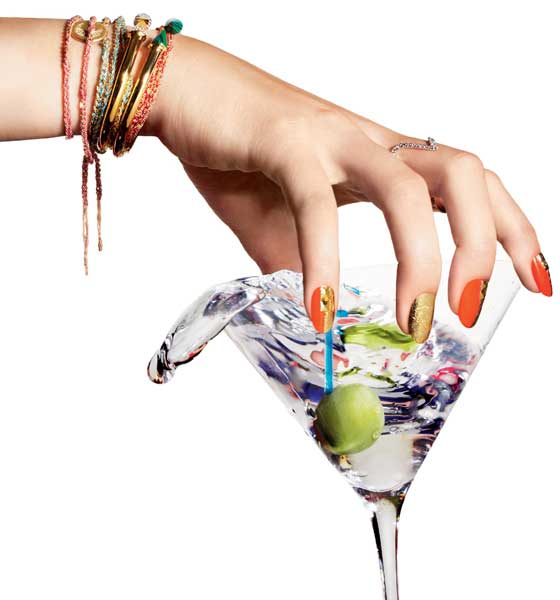 Manicurist: Stephanie Stone.
Celebrity clients: Miley Cyrus, Demi Lovato, Kelly Clarkson.
Stephanie shares her manicure secrets: earlier, to create a sparkling manicure, we used glitter nail polish; now daring fashion accessories are in fashion, so she uses foil for a spectacular rock-style club manicure.
How to Create the Night Out Manicure?
It is easier to do than it seems at first: pick just one nail polish (it will serve as a basis) and apply it in two layers. Use dark colors for a more flamboyant style. Light and bright ones perfectly complement flirty girl dresses, bringing an element of chic to the image. When the nail polish is completely dry, you can start decorating nails. Prepare the foil forms in advance. They may be thin or thick. Thick ones look good in small curved elements (strip, zigzag, star). Thin foil perfectly applies on the entire surface of the nail plate. Using a thin brush, apply glue to the prepared foil form and then glue it to the nail, tightly pressing with fingers. Finally, apply a fixative. If desired, you can further embellish one or two fingers with rhinestones, using a topcoat of nail polish as an adhesive.
Busy Lady Manicure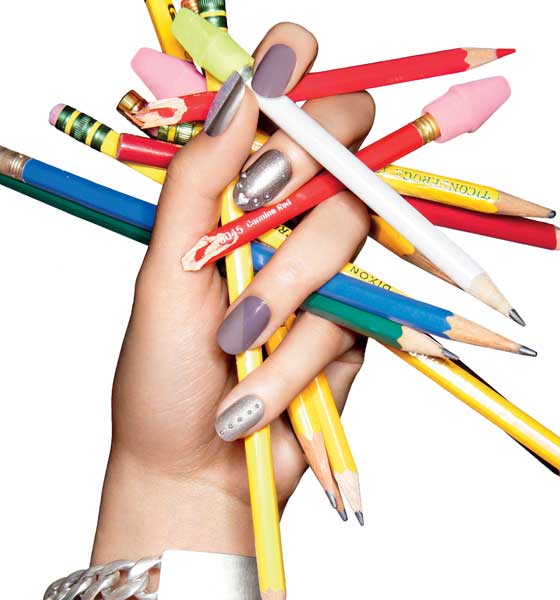 Manicurist: Tom Bachik.
Celebrity clients: Jennifer Lopez, Zooey Deschanel, Anne Hathaway.
Bachik recommends adding a spicy accent to manicure to brighten up a strict office dress code. Try playing with pastel nail polishes, decorating several fingers with modest rhinestones.
How to Create the Busy Lady Manicure?
Here is an interesting option: apply Greyt Expectations shade of the Colour Riche Nail from L'Oréal Paris on the thumb, the index and ring fingers. Apply a layer of matt nail polish in vertical stripes along the thumb and diagonally on the ring finger. Apply gray nail polish with a metallic sheen on the middle finger and the little finger; draw two parallel lines on the thumb. Finally, decorate a few nails with rhinestones.