Imagine a relaxing, pampered beach experience in a waterfront hotel with top of the line spa treatments. In Sunny Isles Beach, Fla., that vacation is possible at these three highly rated spa hotels. These resorts are known for their outstanding amenities and services as well as for their spa treatments. Indulge yourself with your favorite spa treatment, and return home from your beach vacation fully rejuvenated.
Sole on the Ocean
For a hotel with so many amenities and resort treatments, Sole on the Ocean is surprisingly affordable. Rooms with private balconies and contemporary interior design create a fresh, luxurious experience. The oceanfront hotel features several spa treatments. Choose a 50 or 80 minute session of deep-tissue or sports massage for full comfort and relaxation. For an even more luxurious experience, Sole on the Ocean offers hot stone and aromatherapy massage.

Once you've luxuriated in a relaxing spa treatment, grab a bite at Alba Seaside Italian, Sole on the Ocean's restaurant. Enjoy fresh-caught seafood and authentic Italian prepared by a renowned chef while looking out wide windows at stunning ocean views.
Acqualina Resort and Spa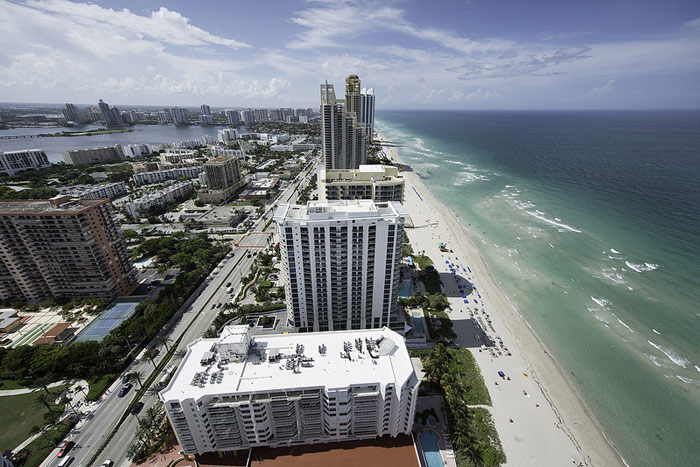 Image via Flickr by jikatu
Experience a top-notch spa day at Acqualina Resort and Spa. This luxury oceanfront resort boasts a Mediterranean theme, three restaurants, and an educational program for child guests. Their 20,000-foot spa offers 16 private rooms and a long list of treatments. Enjoy facials, massages, body treatments, manicures, and pedicures designed specifically to suit a whole host of individual needs. The spa also includes a Crystal Steam Room, a Finnish sauna, ice fountains, and showers with cool and warm mists. Couples will love the special spa treatment room for two.
Time spent at the Acqualina is truly unforgettable. Along with the spectacular spa, the resort also houses a hair salon, which includes body waxing and makeup. If you want some exercise in with your relaxation, there are multiple yoga programs. You can practice outdoor morning yoga by the ocean or challenge yourself with a flow class. Take the Iyengar yoga class for some serious alignment.
Golden Strand Ocean Villa
Complimentary features are the name of the game at the Golden Strand Ocean Villa. Guests have free use of the steam rooms, jacuzzi, and saunas. Many other spa treatments are available for an additional fee. Book a manicure, pedicure, facial, body treatment, massage, or hair appointment, and enjoy a few hours of pampering.
Once you've done that, take advantage of Golden Strand's fabulous beach-side treatment by letting attendants bring you umbrellas, lounge chairs, and pads on the beach. The hotel also offers shuffleboard and volleyball courts, which provide great afternoon and evening activities.
What is your absolute favorite spa treatment? Do you like going the extra mile while on vacation and indulging in spa pampering? Let us know in the comments!
Author Bio: Alexandra Shostak is a freelance writer, graphic designer, and Hipmunk blogger who likes to go on adventures, whether they take her down the street or on a road trip to another state.