Those of us who favor high heels or other fashionably smallish shoes like ones with pointed toes that go hard on feet and toes can end up with sore feet. That's a shame, so a few hints as to how better mind your feet health when you are picking new shoes.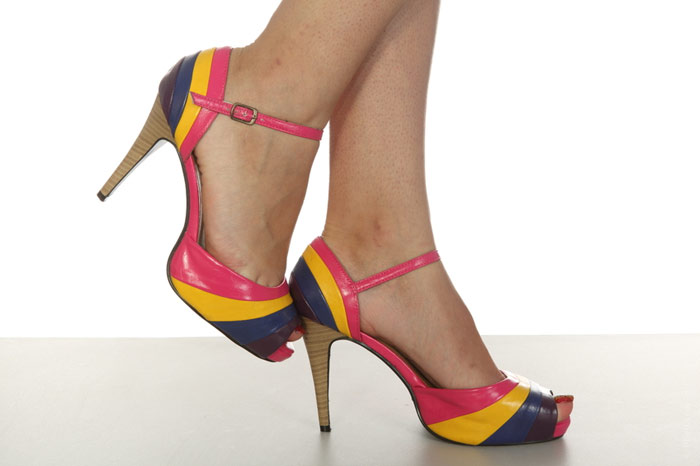 1. Want to forget about aching feet?
First, check the heels – they should be on the low side, not longer than an inch and half, and rather wide. The wider they are, the more walking comfort is guaranteed.
2. Select reasonable shoe size
The feet tend to grow in length and width with the passing of time, if you haven't had your feet measured in the last couple of years, do it now. Don't have your feet sized sitting, you should be standing on your feet for their full expansion.
3. Never go by the size without trying shoes on
You should ensure that they fit you perfectly, because size can be a bit different depending on the style and the manufacturer.
4. Make sure you don't get your shoes too narrow
Put your bare foot alongside the shoe and check the width. If the pair is too small, discard them – you are sure to find another pair you will like just as much!
5. Put on both shoes
So many people have feet that vary a little, therefore make sure that both shoes provide a good fit. Or, if you know that one of your feet is slightly larger, try shoes on this foot. For most comfortable results you should have a finger-wide space between the end of the shoe and your toeline.
6. Evening Shopping
As the day wears on feet get swollen, so you can get better fit shopping towards or in the evening; shoes that you purchased early in the morning may feel different in some six-eight hours into the day.
7. Buy Only Well-Fitting Shoes
Don't rely on breaking shoes in – they should feel all right from the beginning, you can bring on unnecessary pains waiting for them to wear a little softer.
8. Inquire about the shop's return policy
It is quite possible that you will be allowed to take the shoes home and wear them some to ensure an excellent fit. If you don't give them obvious signs of use, they may take them back or let you exchange them for a better pair.
9. Style and material are also important healthwise
Flexible material, one that breathes are definitely preferable. Also, avoid having seams along the toe part – it can chafe your skin.
Take proper care of your feet! Statistics say we walk several thousand miles during our whole life, and we want it to be a light and graceful walk, not increasingly crumpled as you age. It really pays to be more attentive to your feet's needs.